7 Russian Athelets Suspended From the Olympics.
[
]
Full Story: http://www.nbcolympics.com/blogs/blog=alanabrahamsonsblog/postid=162136.html#seven+russian+track+stars+suspended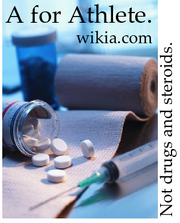 7 Russian athletes busted for doping by IAAF - 07/31/08 - Seven Russian female athletes, including an indoor world record holder and a two-time world champion, were provisionally suspended Thursday by the IAAF for doping-related matters.
Yelena Soboleva

, who set a world record in the 1,500-meter race at the 2008 indoor world championships, was one of the seven charged "for a fraudulent substitution of urine which is both a prohibited method and also a form of tampering with the doping control process."
Two-time world 1,500 champion

Tatyana Tomashova

was suspended.
Middle-distance runners

Yulia Fomenko

,

Svetlana Cherkasova

and

Olga Yegorova

,
Hammer thrower

Gulfiya Khanafeyeva
Discus thrower

Darya Pishchalnikova

.
Soboleva, Khanafeyeva and Pishchalnikova were on the Russian team's roster for the Beijing Olympics, according to the Web site of the European Athletics Federation.