Image
[
]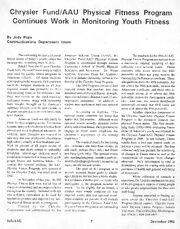 Article
[
]
The continuing decline in physical fitness scores of today's youths relays the message that something must be done.
Results from the 10-year Chrysler Fund/AAU Physical Fitness study reveals a great need for quality fitness programs in American schools. Of those children participating in the program, 68% could not reach the minimal standards on all four required events due primarily to their disheartening times in the endurance run. Poor test scores in the cardiovascular endurance events, along with increasing body weight, brought on by America's sedentary lifestyle over the past decade, is of great concern due to its correlation with heart disease.
American youth are only partly to blame for their dropping scores. For various reasons, many schools devote less than three periods per week to physical education. In addition, most teenagers are required to take only one year of physical education in high school, usually in their freshman year. With 50 percent of all major causes of disability and death related to unhealthy lifestyles, school-age children need a program to initiate them to learn early in life proper fitness and nutrition habits. To combat this national problem, the AAU Physical Fitness Program, now sponsored by the Chrysler Fund, was established in 1943.
In November of this year, 46,000 Physical Fitness Kits were mailed free of charge to elementary and secondary schools throughout the country. Included in the kit was a fitness curriculum to be used by teachers to promote and improve long-lasting physical fitness levels in youngsters. Funded by the Chrysler Corporation and administered by the
Amateur Athletic Union (AAU), the Chrysler Fund/AAU Physical Fitness Program is coordinated through Indiana University's School of Health, Physical Education and Recreation. Dr. Wynn Updyke, Associate Dean for Academic Affairs at Indiana University, serves as the director of the Chrysler Fund Program.
The 1991 Program consists of four required events that translate into four measurements of physical fitness: strength, muscular endurance, flexibility and circulorespiratory endurance. In addition, a student must perform at least one optional event.
According to Updyke, "The optional events constitute one factor that makes this test popular. Although some optional events actually measure motor ability rather than fitness, the opportunity to engage in these items heightens the children's enjoyment of the testing experience."
The required events for the testing are: endurance run, bent-knee sit-ups, sit and reach, pullups (boys only) and flexed arm hang (girls only). The optional events are: standing long jump, isometric pushups, modified pushups (girls only), isometric leg squat, shuttle run and sprints.
The goal of this program is to provide personal fitness goals to schoolaged children, not test their athletic ability. In accordance with this goal, everyone who participates in the program receives an award. To be eligible for an award, a student must simply complete all four required events plus one optional event. Approximately six percent of all students participating in the Chrysler Fund/AAU Physical Fitness Program score outstanding in all five events.
The standards for the 1991-92 AAU Physical Fitness Program are derived from a nationwide random sampling of data collected over several years. Those students who score above the 80th percentile of their age goup receive the Outstanding Performance certificate. Those who perform above the 45th percentile, but not above the 80th percentile, receive the Attainment certificate, and those who do not reach scores at or above the 45th percentile receive the Participation certificate. Last year, the awards distribution nationwide revealed that 69% could not score at or above the 45th percentile.
Another important component of the Chrysler Fund/AAU Physical Fitness Program is the extensive research into physical fitness status. The first decadelong study (1980-1989) evaluating fitness status of America's youth was released by the Chrysler Fund/AAU Physical Fitness Program in 1989. In late January, fitness results from a two-year intense study on Indiana's youth will be released. The data collected each year permits the monitoring of changes in fitness status as well as the examination of reasons from changes observed. Such information is vital in formulating plans for coping with today's problems of health and general well-being of Americans.
While collection of research is important, Dr. Updyke emphasizes the goal of the program is to empower young people to take greater responsibility for their own well-being. Anyone interested in finding out more about the Chrysler Fund/AAU Program should contact: Chrysler Fund/ AAU Physical Fitness Program, Indiana University, Poplars Building, Bloomington, Ind. 47405; 1-800-258-5497.
Second Article
[
]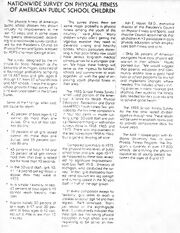 The physical fitness of American public school children has shown virtually no improvement in the last 10 years and in some cases hos greatly deteriorated, according to a nationwide survey conducted by the President's Council on Physical Fitness and Sports released by PCPFS chairman George Allen.
The survey, designed by the Institute for Social Research at the University of Michigan, consisted of o four-stage probability sampling of 18,857 boys and girls, ages o through 17, from 57 school districts and 187 schools. It was the largest school physical fitness survey of its kind ever undertaken in the United States.
Some of the findings, Allen said, are cause for alarm:
40 percent of boys oges 6-12 can not do more than one pullup. One out of four cannot do any. 70 percent of all girls tested cannot do more than one pullup, and 55 percent connot do any. 45 percent of boys 6-14 and 55 percent of all girls cannot hold their chin over o raised bar for more than 10 seconds. In the 50-yard dash, girls 10, 11, 14 and 16 are significantly slower than they were in 1975.
In o simple flexibility sit-test, 40 percent of boys ages 6-15 cannot reach beyond their toes. Approximately 50 percent of girls ages 6-17 and 30 percent of boys ages 6-12 connot run o mile in less than 10 minutes.
"This survey shows there are some major problems in physical fitness among the youth of this country," said Allen. "Mony children simply aren't getting the vigorous exercise they need to develop strong and healthy bodies. What's particularly distressing is that poor fitness now could have serious long-term medical consequences for a youngster later on. We hope these findings will serve as the impetus for families, schools and communities to work together, all with the goal of improving youth physical fitness in their area."
The 1985 School Fitness Survey.l which used portions of the Amer. icon Alliance for Health, Physical Education, Recreation and Dance (AAHPERD) Youth Fitness Test, provided for the first time comparisons in four test items - shutte run. long jump. 50-yord dash and pullup/flexed arm hong - with similar surveys done in 1958. 1965. and 1975. There was improvement in the test scores from 1958 10 1965. but o general leveling off since.
"compared specifically to 1975. the physical fitness levels of public school boys and girls, ages 10-17. as measured by these tests, revealed no significant improvement,". said Guy Reiff, Ph.D., University of Michigan, who conducted the survey. "In fact, girls disclosed o marked trend toward less leg strength and running speed in the 50-yard dash in half of the age groups.
"In every comporison except for flexibility, girls seem to reach o plateau at about age 14 and then regress," Reiff continued. "That's just about at the eighth-grade level. It undoubtedly indicates that most girls are not taking physical education in high school and are neglecting to be active on their own."
Ash E. Hayes, Ed.D., executive director of the President's Council on Physical Fitness and Sports, said that the Council recommends that all children K-12 participate in daily physical education which emphasizes both fitness and skills.
"Only 36 percent of American youngsters have daily physical education in their schools," Hayes pointed out. "We would suggest that parents, educators and community leaders take a good hard look at school programs for this fall and implement changes where needed. This includes schools shifting priorities in many instances and teaching their students the fitness skills needed for life's activities and to achieve good health."
The 1985 School Fitness Survey for the first time tested children aged six through nine. These results will be used to establish norms and to provide comporotive data for future years The AAU in cooperation with Indiana University has its own Physical Fitness Program. The Program is currently in over 17,000 schools, determining the physical capabilities of young people between the ages of 6 and 17.