The A for Athlete wiki and vision.Edit
A is for Athlete blends fitness, sports, languages, technology and global citizenship.
A is for Athlete is a project for "Creating Literate Olympians Here."
A is for Athlete is an authoring project to craft CDs, DVDs, podcasts and a wiki (of course) that provides content for books, workbooks, comics, posters and various carbon based materials.
We'll produce alphabet books for the Olympic sports in 2008.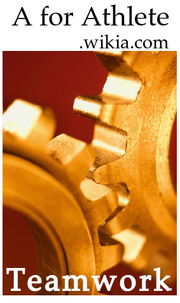 Our multi-lingual sports glossary covers terms, jargon and lingo associated with athletes, sports, fitness and wellness. The aim is to include all languages. We'll catalog and document the wide world of sports in the traditional wiki.
A is for Athlete hosts clinics and seminars for teaching and self discovery sessions. Together we become more productive and work in teams to increase quality and quantity of the shared knowledge.
The wiki and CLOH.Org intended to help athletes, coaches, administrators, teachers, fans, and writers to learn more about international sports cultures, particularly in the context of the Olympic games.
2008 New Media
Edit
We're experiencing a fundamental shift in content creation, distribution, and consumption, thus creating an Active and Participatory Media society that is inspiring and seeding a more literate and enlightened generation. [1]
Social Media marketers or Social Media consultants are to the new Web, what Webmasters were to Web 1.0.
Many more are not using social tools to communicate, and they are important to the bottom line. Therefore, connect our story and our value propositions to people wherever they go to discover and share information - even if it's in the real world. Social Media is a critical part of a larger, more complete sales, service, communications, and marketing strategy that reflects and adapts to markets and the people who define them.
Community content is available under
CC-BY-SA
unless otherwise noted.