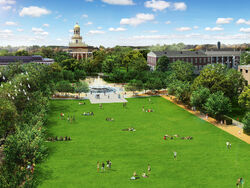 Background
University in

Waco

, Texas
Baylor University is a nationally ranked research institution, characterized as having "high research activity" by the Carnegie Foundation for the Advancement of Teaching. The university provides a campus community for approximately 15,000 students by blending interdisciplinary research with an international reputation for educational excellence and a faculty commitment to teaching and scholarship.
Chartered in 1845 by the Republic of Texas through the efforts of Baptist pioneers, Baylor is the oldest continually operating university in Texas. Located in Waco, Baylor welcomes students from 50 states and more than 80 countries to study a broad range of degrees among its 11 nationally recognized academic divisions.
Baylor sponsors 19 varsity athletic teams and is a founding member of the Big 12 Conference.
Details
Teams
Baylor University had a Men's and Women's team in 1982-83. The program (both men and women) ended when the old 33 1/3 yard swim pool was converted to Physical Education lab space. Not a Title IX cut.
Former Home to: