Jurassic World: Dominion Dominates Fandom Wikis - The Loop
Play Sound
Background
Bob Gillett is a famous swim coach that moved to

Golden West Swim Club

in Southern California in 2007 from

Arizona

where he owned and operated a sports ranch.
https://lh3.googleusercontent.com/PDNhcXCkq8uZFCoW0rZCbH5QPID7HTVGvuUng77URdFP8Un_-DE1Tft16Qbz3JmjI9Gc0jz5zYKKmL1OZKTY7MvxW_M7HcMfDfyNW0Yj2hRMNuVxEhs7EvOZGnGEU-fPbOuhmRSOd8zOH68pHujnImV0-rHxSMuysj_8z3ax-r877z-ZvHtcg-nvHe0-kSXcKUHfnkGcTChRsCouee-IYDIZf6dCUafHs6aaXjcE3Q7j0CJm82D1h49JTAcNX548eFPMqFvEZ-7zjNZb9XDCnoCs0XCuZWTfnd-2ChWvFgnGN8GPJZC1IkltjGK2WS4UU0qNP_lw10RY4u7b6W4d3rYEGNHAIMh4BDldlCzNon9rAoTC7BP23v7sAXWATPo2LaaXYxTFDn1PkYJZhq10GKIlmKLZMGyeFkIPLugdxLP95MdFFbLH4l5e8nDKgeRR_I228AgUmukbMP0NDqZT5PepkcpZZ6k3wTqTK-vSg63Snt0EnQpSqJ_mQISBkOTtG3QpXhVUhlcqVBA-hNWNTaVoADZdI9a7k7_QPrLbpjweRfS9Kc9_2bjcr88azWIpbYrkUDm7wG5gYducrgTwdXqu6lrT7xaF_v58v1-aGH9suw5Wfnh7SA=w355-h437-no
Video
Warm Up Insights
Presentation
Insights
Interview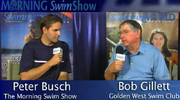 Links
Details of Topics for Clinics and Club Visits with Coach Bob Gillett, a USA Swimming Master Coach
These are some of the topics that I would like to work on during my visits with coaches. One or more topics can be selected for the visit, depending upon the depth of involvement that the home coach would like. For example, I can spend an hour discussing a video feedback program for you club, or we can go get the actual equipment needed and get you functional on a system and a program for your team over a couple of days.
1. Underwater Kicking for Your Program: Understanding, Teaching and Training
(THIS TOPIC IS PROBABLY A BEST CHOICE FOR ALL OF THE PROGRAMS I VISIT. This is a three hours presentation, with power point, a lot of video illustrations and study using graphic overlay.)
why underwater kicking is faster than swimming on top of the water;
the "conceptual model" of the foil movement used in butterfly, backstroke and freestyle kicking with slow motion, stop action and graphic overlay);
motivational video to show the power of using extended underwater breakouts in competitive situations and provide the bases for the study and work on underwater kicking;
what the fish scientist and CFD (computational fluid dynamics) analysis tells us about the foil movement;
what are the quantitative values in underwater vs. swimming performance;
understand distance per kick, with values that will help define your performance,
understand kicking tempo (and how coaches can measure it), with values that will help define your performance,
the interaction between distance per kick and tempo in relations to body movement (using core body strength to obtain more distance per kick);
focus points and methods of coaching the development of the foil movement.
PART II --The Implantation of an Underwater Kicking Program
what the Coaching Staff needs to do together, with the swimmers, a specific "rules" list, target sets.
an iphone app to assist in developing solid performance in underwater kicking,
how to use the Pro Tempo Trainer to develop perfect tempo, IMMEDIATELY,
how to work on the problem of losing velocity at the end the kick out (this will take months, if not years off the learning curve),
the use of underwater drills and a skills teaching type mono fin to develop perfection in the Foil Movement,
THE CRITICALLY IMPORTANT CONCEPT OF "TREATMENT EFFECT"
Three important sets that can make your Underwater Kicking Program: Fish/Flop, Cycle Focus Underwater Kicking, and Jump Starts,
Integration of the kicking program and set modification for age group workouts throughout your program
3.Methods of Coaching: Teaching and Training Cycle Counting, Tempo and Interaction — 8 and Unders through Senior Swimmers
Counting cycles as a measurement of Distance per cycle,
What tempo is and how it should be expressed to age group through senior swimmers,
The Essence of Swimming: Cylces, Tempo, Interaction.
Using Cycles, Tempo, Interaction in Race Evaluation,
Beginning with the discrimination of 2.0-1.5-1.0!
Methods of showing swimmers how to build in a sense of tempo.
Using tempo to create a sound motor learning situation for developing precession in stroking,
Effect development of tempo, cycles and interaction with large groups,
Having fun with young swimmers and creating a huge, positive public relations scene with tempo!
4. Methods of Coaching: "Whole-Part-Whole", Drills for Strokes and Competitive Skill.
What, Why and How to use the whole-part-whole teaching method
The importance of verbal specific terms in the teaching of swimming
The importance of "correct" demonstration in skill teaching
Why and How to Use Video for the Coaching of Swimming Stokes and Skills
Specific Terms, Drills and Techniques in Coaching Fly, Back, Breast and Free
The "Conceptual Model "method of Teaching
The importance of commitment to a specific "Conceptual Model"
Changing and Using more than one "Conceptual Model"
My "Conceptual Model" on Butterfly and/or Back and/or Breast and/or Free.
5.The Implementation and Integration of Race Evaluation into Your Swimming Program
the variables of race analysis—understanding the relationship of tempo, cycle, and interaction
how to measure them on deck
how to get detail analysis using video
how to use the USA Swimming Resources
how to teach your swimmers (starting with eight and unders, thru your senior programs)
how to use the information within sets and between sets to achieve training goals
how to use distance per cycle, tempo and interaction in workout planning
how to set goals for distance per cycle for workouts and competition--relationship
how to use a tempo trainer
Methods for developing Distance per Cycle
Methods for developing Tempo
Methods for developing the Interaction Between Tempo and Distance per Cycle
The modification of the variable from age group to senior swimming.
USING RACE EVALUATION AS AN IMPORTANT PUBLIC RELATIONS TOOL!!!!!!!!!!!!!!!!!
6.Implementation of Heart Rate Monitoring (HRM) in Your Program.
(NEW DEVELOPMENTS IN MONITORING (Summer 2015) WE ARE BACK IN THE GAME!!!!!)
The measuring of total workout intensity through HRM.
The measuring of total workout load with HRM.
Determining if your swimmers are doing each repeat within a set like the coach wants.
Using HRM for same set comparative analysis—how and why to use the data
Using workout HRM to assist with determining failing adaptation or sickness.
Using HRM as a motivational tool
How to use HRM to assist with resting, tapering and the season peaking process
How to use HRM to control interval training in workout.
7. Low Cost Pools for Teaching and Training
The design and material/equipment selection for low cost pools.
The development of a low cost lesson pool for your program.
The development of a low cost competitive "training" pool.
Site selection for a low cost pool.
How to save tens of thousands of dollars on construction cost.
How to cover your pools with low cost structures.
Creative, but sound, ways to finance swim club training pools.
8. The Implementation of an On Deck Video Program for you Team.
What equipment you need
How you set it up
How to use the system with large groups during workouts
How to use the system with individuals in a quality, detailed situation
Why you have to teach the "Conceptual Model" of strokes before video work.
A simple video illustrator for graphic overlays during video instructional sessions.
Making "video teaching tools" for long term work on stroke development.
An introduction to Sean Hutchison's work and his IKKOS Project.
9. The Implementation of a Simple, On Deck Computer Assisted Sprint System
How to configure a computer, speaker, touch pad and interface device to improve sprinting.
How to use the system with small groups of swimmers.
Automatic starts, timing and feedback to the swimmers.
Control "quality start" repeats, with a large or small group, and freeing up the coaches to coach!
10. A Motivating and Financially Sound Contract for Head Coaches
Provide coach and club with a motivating system of paying the head coach.
Financial and other considerations, such as contract renewal rotation.
Termination agreements.
Contract procedures and negotiations
11. The Implementation of an Internship Coaching Program.
How to recruit the best candidates for your internship program.
What intern coaches need financially.
Coaching and teaching assignments for these coaches.
What should they accomplish professionally during the internship term.
How long should the internship last.
The project method of working with your intern coaches.
12. Creative Problem Solving Collaboration WITH You.
Experience can sometimes make a huge contribution to problem solving!!!
Creative solutions are better achieved by collaboration.
Outside assessment of situations, combined with Insider knowledge results in solutions.
13. Organization and Administration of Swimming Conferences for Senior and Age Group Programs
The solution to professional association that will work for coaches and programs.
Age Group conferences may not be with the same teams as a Senior Level Conference
How to get the same conference benefits that result in college and professional sports.
How to get modern day family sensitive acceptance of age group meets.
More opportunity for educationally sound competition—for beginning level USA Swimmers!
Why compatible coaching philosophies can provide the bases of conference membership.
Why it is important to have teams with different participation territories in your conference.
How conference can accommodate flexibility in non-technical rules.
Conference can provide the implementation of some creative competition formats.
How conferences can provide more publicity and recognition at the local level.
How to get local and regional advertising and sponsorship money through the conference.
14. Remote Site Coaching
The technology set up involved in remote site coaching.
Shared and collaborative coaching.
Being two or more places at the same time.
Participating and visiting at your multi-site workout locations.
15. Status Profile
Implementation of "precision" communication with your swimmers.
Meaningful non-confrontational communication made simple.
Using Swimmer Status Profiles to enhance your in season training.
Using these techniques to get the most out of resting, tapering and peak meet performances.
A super method of managing injuries!!!!
16. Flex-Lane BulkHeads
Selection of materials for the bulkheads.
Simplest design for functional use.
Low cost advantage of "doing it yourself".
Ideas for Training with Flex-Lane BulkHeads
Ideas for Skill Development with Flex-Lane BulkHeads
How to make program money using Flex-Lane BulkHeads
17. How to Treat and Motivate Your Coaches (A Presentation for Senior and Pre-senior Swimmers)
Only the presenter and Swimmers are present (no other coaches present) 1 hour.
Things that your swimmers need to know about coaches, but their home coaches can't say to them.
Why this topic is important and being presented to you!
Things that groups can do to motivate their coaches throughout the year.
Things that individual swimmers can do to motivate their coaches.
Things you need to say to your coaches and why!
Things you need to do in practice that will promote great peer relationships and motivate your coaches in the process.

Misty Hyman

and Cindy Tran stories and examples of what they did throughout their careers.
How to empower your coach to take your team to new levels of achievement. A small project that the senior team needs to do EVERY YEAR!
What team leaders should do to help their coach.
Promote your coach! Great coaches make great swimmers — and great swimmers make great coaches!
18. Using max VO2 Measurements for Your Developing Swimmers
(In Development)
In water measurement of max VO2—not estimates or sub-max extrapolations!
ml/kg/min
How to use the information for developing swimmers.
Comparison of norms. Action Study: past history of swimmer success and max VO2 relationships.
The identification of exceptional talent.
Considerations for those swimmers who do not test high in max VO2
How to correctly interpret the meaning and use of the data, using sound statistical methodology.
(Proper delimitation within and between swimmer sub-populations).
Coaching Methods, applied physiology, biomechanics, facilities, financial feasibility,
 PROBLEM SOLVING!