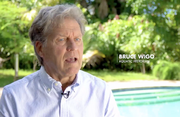 Bio
[
]
Attorney

the innovative and tireless President and Chief Executive Officer of the International Swimming Hall of Fame since 2005.
ISHOF is a not-for-profit educational organization located in

Fort Lauderdale

, Florida.

ISHOF

. Their mission is to promote the benefits and
importance of swimming as a key to fitness, good health, quality of life, and the water safety of children. They accomplish this through a shrine dedicated to the history, memory, and recognition of the famous swimmers, divers, water polo players, synchronized swimmers, and persons involved in life-saving activities and education, throughout the world, whose lives and accomplishments will serve to inspire, educate, and be role models for all those who participate in the Hall of Fame's experience and programs.
An attorney by profession, Wigo has had success in turning around financially troubled non-profit businesses.
In 1991, he took over as the Executive Director of USA Water Polo and helped bail out the nearly bankrupt sport's federation. His work laid the groundwork for the re-emergence of American water polo on the international scene.
In his 13 years as the Executive Director, Wigo increased membership from fewer than 8,000 members to more than 30,000 members. He also more than tripled the annual budget to over $3.5 million, and raised over $1.5 million for the establishment of a water polo national training center in Los Alamitos, California.
Wigo was honored with the 2012 Lighthouse Award for educating the public about the importance of learning to swim and for developing a safety device for open water swimming called "Safe Swimmer," a personal safety flotation device used by the open water swimming and triathalon markets. The award was given by the National Drowning Prevention Alliance and USA Swimming Foundation.
In 2009, Wigo self-published the book The Golden Age of Swimming: A Picture History of the Sport & Pools That Changed America. The book chronicles the pastime's beginnings in ancient Rome, through the Victorian and into the 20th century. Its artwork comes from a collection of photographs, postcards, news clippings and other history sources, painstakingly assembled by Wigo. The Golden Age of Swimming also deals with the sport's darker past, such as racial discrimination when large public pools first became popular.
Family
[
]
Wigo's oldest son, Wolf Wigo, is a three-time Olympic water polo player and currently the head water polo coach at the University of California at Santa Barbara. His daughter Lauren Wigo is the corporate yoga instructor for Allen & Company in New York City, and his two younger sons, identical twins, Drac Wigo and Janson Wigo, are NCAA All-American water polo players at Stanford University.