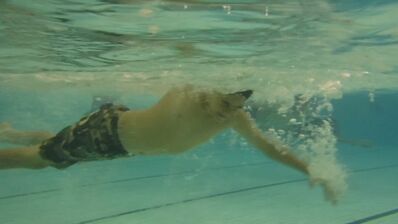 Age 9, and posted:
Last week at swim and water polo I liked everything we did at the pool. We get to swim and do exercises and swim sports like water polo and SKWIM. After swimming we did normal exercises and stretches and played other games at Swim and Water Polo. They also provide us with things we need to swim like flippers, borrowed swim trunks, kick boards. We get head gear and different exercises each time. We swim to build up our strength.
Week 2 update:

This week in Swim & Water Polo Camp I learned some new water exercises, and I learned how to do a front stroke. I went in the deep water for the first time. I used flippers and life jackets to swim in the deep to help me swim and float.
Week 3 update:

This week in Swim and Water Polo I learned how to swim with my face underwater and how many strokes I should do until I bring my face above the water. I also learned how to swim in the deep water with my face in the water. I used my flippers to help me swim this week. We got to dive in the water. We had a new coach and new lifeguards too. They broke us up into groups. In the shallow we did freestyle stroke back and forth. In the deep water we learned treading water, and we got to jump and dive in the deep water. After jumping and diving in the deep water we swam back and forth, then we went to the shallow again and splash our lifeguard. We played SKWIM and ULTIMATE SKWIM, then we had free time for a little bit, and we got to do more diving and jumping in the deep water when all swam from the deep water to the shallow water. I HAD A LOT OF FUN IN SWIM AND WATER POLO THIS WEEK AT SUMMER DREAMERS.
Last week at Summer Dreamers I passed my deep water swimming test. I passes it at the outdoor pool.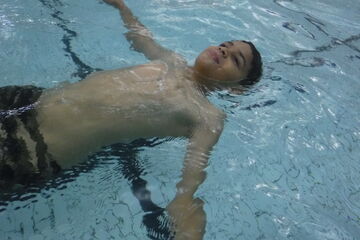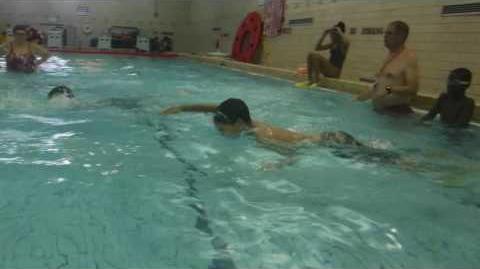 Community content is available under
CC-BY-SA
unless otherwise noted.