New Zealand
This file was originally uploaded on Wikipedia or another Wikimedia project.
Background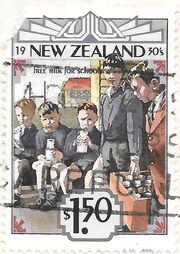 External Links
Insights
Position Paper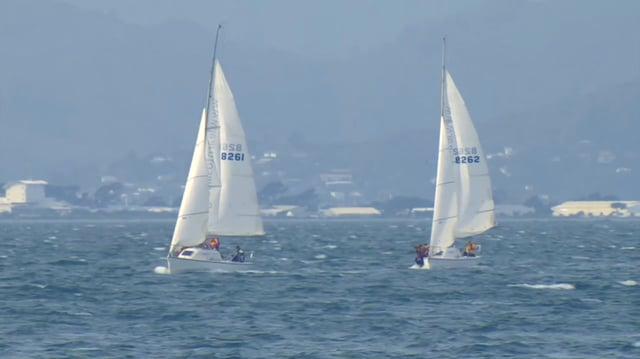 Positons
Travel Videos
http://www.youtube.com/watch?v=nqidTppC2JQ&feature=player_embedded#at=51
Basketball
Details
Mission accomplished for New Zealand swimmers
July 6, 2008
New Zealand (also known as NZL)
Olympic swim coach Jan Cameron believes her team is on target for Beijing.
She is buoyed by performances from the squad against the might of Australia (also known as AUS)
in a three-day Grand Prix meet that finished in Sydney today.
While there were no more victories for the kiwis today, the entire squad all performed within the targets given by Cameron and coach Thomas Ansorg and all managed to improve from their heats to the finals.
Cameron said it was an invaluable opportunity to race against Australia who boasts five world champions and a host of Beijing medal prospects.
"The aim was to work on the construction of their races and not concern themselves with the outcomes," Cameron said.
"Most importantly we worked meticulously on our protocols in recovery and pre-race with this meet run under the same format as Beijing with heats at night and finals in the morning.
"Everyone swam faster in the finals than the heats which was encouraging in that respect."
Cameron said she was pleasantly surprised with the number of excellent times recorded by her swimmers.
"As often happens when you are concentrating on the processes, is that you get some good outcomes."
She said that the opportunity to race against Australia was invaluable.
"We are very grateful for the opportunity. It has been a hugely important three days in our Olympic programme.
"We know we are on schedule although there are things to tweak and some very intensive work to do in the next three weeks especially on our skills at starts and turns.
"The swimmers are all very encouraged and positive with their efforts."
There was one New Zealand record set by Liz Coster who edged under her own mark clocking 28.72s in finishing behind world champion Sophie Edington in the final of the Monaco 50m backstroke. She also finished third in a solid 1:01.47 in the 100m backstroke, just ahead of 200m specialist Melissa Ingram.
"Liz really performed superbly here this weekend which is encouraging and Melissa produced one of her very best 100m times." [[ Corney Swanepoel]] was third just ahead of 200m winner Moss Burmester in the 100m butterfly finals clocking 52.94 and 53.01 respectively, the fastest either has done in work.
Glenn Snyders completed a heavy workload, just pipped by Beijing medal contender Brenton Rickard in the final of the Monaco elimination 50m breaststroke and was third in the 100m final.
"Glenn has continued to improve. The workload meant he was probably not quite at his best in the 100m but we are very pleased with him."
Hayley Palmer made it through to the semifinals of the Monaco 50m freestyle in a very solid 25.78s, which was 3/10ths outside her national record, and finished fourth in the 100m, beating off the legendary Lisbeth Trickett (nee Lenton).
"Hayley was very impressive. She also took the time to talk with Lizzy Tricket and those sorts of experiences will be important for her."
An ill Lauren Boyle finished 12th in the 100m freestyle.
Helen Norfolk was third in the 400m individual medley in her second fastest time ever with a 4:45.03 won by world champion Stephanie Rice and Dean Kent was just pipped in the 200m individual medley in a solid 2:03.81.
The squad fly back to New Zealand tonight a further three week training block before they head out to their staging camp in Japan prior to Beijing.
New Zealand performances, first session finals, Grand Prix, Sydney Aquatic Centre:
Finals:
400m individual medley: Stephanie Rice Australia (also known as AUS)
4:41.42, 1; Samantha Hamill (AUS) 4:44.06, 2; Helen Norfolk (NZL) 4:45.03, 3.
100m freestyle: Cate Campbell (AUS) 54.20, 1; Angela Bainbridge (AUS) 55.43, 2; Shayne Reese (AUS) 55.44, 3; Hayley Palmer (NZL) 55.89, 4; Lauren Boyle 58.72, 12.
100m breaststroke: Brenton Rickard (AUS) 1:01.07, 1; Chris Sprenger (AUS) 1:01;17, 2; Glenn Snyders (NZL) 1:02.29, 3.
100m butterfly: Andrew Lauterstein (AUS) 52.45, 1; Adam Pine (AUS) 52.74, 2; Corney Swanepoel (NZL) 52.94, 3; Moss Burmester (NZL) 53.01, 4.
100m backstroke: Sophie Edington (AUS) and Emily Seebohn (AUS) 1:01.07, equal 1; Liz Coster (NZL) 1:01.47, 3; Melissa Ingram (NZL) 1:02.13, 4.
200m individual medley: Sam Ashby (AUS) 2:03.74, 1; Dean Kent (NZL) 2:03.81, 2; Leith Brodie (AUS) 2:05.93, 3.
400m freestyle: Bronte Barratt (AUS) 4:09.12, 1; Melissa Borman (AUS) 4:13.55, 2; Linda MacKenzie (AUS) 4:16.13, 3; Natasha Hind (NZL) 4:21.03, 4.
Monaco finals:
50m breaststroke: Brenton Rickard (AUS) 28.03, 1; Glenn Snyders (NZL) 28.07, 2.
50m backstroke: Sophie Edington (AUS) 28.29, 1; Liz Coster (NZL) 28.72, 2 (NZ record).
---
Olympic swimmers produce encouraging efforts against Australia
5th July 2008
New Zealand's Beijing bound swimmers have produced some encouraging performances on the first session of finals against the Australian Olympic team in Sydney today.
The kiwi contingent are using the Grand Prix meet at Sydney Aquatic Centre to test their progress and the racing protocols with the meet run under the Beijing format of heats in the evening and finals in the morning.
World short course champion Moss Burmester took out the final of the 200m butterfly in an excellent swim while clubmate Helen Norfolk set a new national record in the 200m freestyle.
Glenn Snyders, Liz Coster and Corney Swanepoel all topped qualifiers to move through to the knockout semifinals of the Monaco 50m sprints.
All of the kiwi Olympic swimmers improved from last night's heat swims and all produced times close to their Beijing qualifying performances, their best in-training times ever.
"It was very pleasing for them all to know that they are on the right track, given that we are still in full training and have quite a bit of work yet before we begin to taper for Beijing," Swimming New Zealand head coach Jan Cameron said.
"They all produced some excellent swims. It was very, very good and very, very pleasing. We are really concentrating on our pre-race and post-race protocols for Beijing and they all got up and swam faster this morning."
Burmester led the way, topping qualifiers last night and going on to dominate the 200m butterfly final in 1:56.11, just over a second outside his Commonwealth record.
"It was a very good swim, a second faster than he did at the Beijing test event on the way to his record in the Olympic Trials," Cameron said. "Moss was smooth and it was an extremely well constructed race."
Norfolk, 26, established a new national record in the 200m freestyle final in 2:00.11, under her old mark set at the Melbourne Commonwealth Games.
She finished sixth in the final dominated by the world champion Australian relay team with her kiwi 200m freestyle relay teammates Hayley Palmer and Natasha Hind both swimming solid 2:02 efforts in the heats.
Norfolk, such a tough competitor, turned around to finish second in the final of the 200m individual medley in 2:15.44, a second outside her national record.
"That was a very solid effort from Helen who had only just finished her freestyle final. We are very happy with the way Helen is swimming. She is very focused.
"She was a bit miffed not to go under that two minute mark but we are sure she will crack that as the lead-off swim in the relay in Beijing."
Snyders goes through to the final four in the 50m breaststroke in the Monaco-format elimination races after clocking 28.22, only 2/10ths outside his New Zealand record.
He turned around to finish third in the final of the 200m breaststroke in 2:16.39, which is his best in-training performance.
Swanepoel impressed with a superb 23.76s effort to top qualifiers for the semifinals in the Monaco 50m butterfly, only 9/100ths of a second off his own national record, although he has withdrawn from these races to concentrate on the 100m butterfly tonight.
Coster also gained a real boost for her 100m backstroke when she out-pointed world champions Emily Seebohm and Sophie Edington in the elimination for the semifinals in the Monaco 50m backstroke, clocking 28.86, just 13/100ths outside the national mark.
Melissa Ingram also improved from the heats with a 2:11 effort in finishing third in the final of the 200m backstroke behind the Australian record-holder Meagen Nay. North Shore's Penny Marshall broke the national age group record with her 2:12.65 swim to be fourth fastest in the heats.
In other swims Palmer is through the Monaco semifinals in the 50m freestyle clocking 25.68s and Cameron Gibson was fifth in the final of the 100m freestyle in 50.40.
There is a further session of heats tonight and last session of finals tomorrow.
New Zealand performances, first session finals, Grand Prix, Sydney Aquatic Centre:
Finals:
200m butterfly: Moss Burmester (NZL) 1:56.11, 1; Christo Wright (AUS) 1:58.20, 2; Travis Nederpelt (AUS) 1:58.35, 3.
200m freestyle: Felicity Gomez (AUS) 1:58.39, 1; Bronte Barratt (AUS) 1:58.41, 2; Ang Bainbridge (AUS) 1:59.04, 3. Helen Norfolk (NZL) 2:00.11, 6 (NZ Record); Hayley Palmer (NZL) 2:04.65, 7.
200m individual medley: Alicia Coutts (AUS) 2:12.68, 1; Norfolk (NZL) 2:15.44, 2; Samantha Hamill (AUS) 2:16.95, 3.
200m breaststroke: Chris Sprenger (AUS) 2:12.63, 1; Brenton Rickard (AUS) 2:12.81, 2; Glenn Snyders 2:16.39, 3.
100m freestyle: Matt Targett (AUS) 49.51, 1; Andrew Lauterstein (AUS) 49.64, 2; Kenrick Monk (AUS) 49.73, 3. Cameron Gibson (NZL) 50.40, 5.
200m backstroke: Meagen Nay (AUS) 2:09.06, 1; Belinda Hocking (AUS) 2:09.21, Melissa Ingram (NZL) 2:11.05, 3.
Monaco second round:
50m breaststroke: Snyders (NZL) 28.22, 1; Sprenger 28.93, 2; Rickard 29.19, 3.
50m butterfly: Corney Swanepoel (NZL) 23.76, 1; Andrew Lauterstein (AUS) 23.87, 2; Garth Kates (AUS) 23.91, 3.
50m freestyle: Cate Campbell (AUS) 24.77, 1; Lisbeth Trickett (AUS) 25.57, 2; Palmer (NZL) 25.68, 3.
Languages
Simple Slogans
Hello =
Thank you =
News =
Sports =
Athlete =
Regional Slogans
Haka, a cheer done before the rugby game by the All Blacks
Togs, a New Zealand term for swim suit.
People
Heros
Sporting Stars
New Zealand National Teams
All Blacks, the New Zealand men's rugby team

Black Ferns

, New Zealand women's rugby team. In 2010, the team won its 3rd straight world cup.

Tall Blacks

, basketball team

Wet Blacks

, swim team

Silver Ferns

, http://www.mynetball.co.nz/silver-ferns.html, New Zealand's women netball team.

All Whites

, men's football (soccer) team. [1]
Coaching Stars
Gordon Tietjens coaches

Rugby sevens

, and his squad has won the gold medal at four (2010 most recent) consecutive

Commonwealth Games

in a row. is some feat. Unlike the All Blacks, he does not have hordes of assistants, additionally his ability to get results and identify and nurture raw talent makes him one of the most under-recognised coaches in sport.
Cultural Stars
Celeb Figure

-- replace name
A for Athlete
Friends
Leads
Schools
Olympics
Beijing 2008 Olympics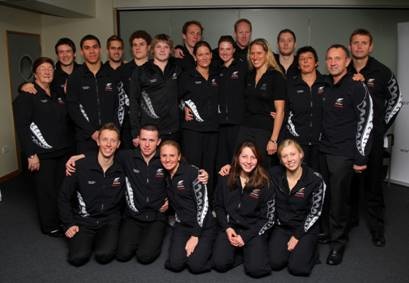 Send a message to the New Zealand Swim team at http://tinyurl.com/6dpyhs
Summary
Past Olympic Memories
Sport in New Zealand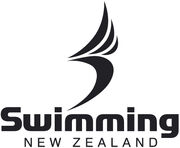 Sport has a major role in New Zealand's culture, with the unofficial national sport of rugby union being particularly influential. Other popular participatory sports include cricket, bowls, netball, soccer, golf , swimming and tennis.[1] New Zealand has strong international teams in several sports including rugby union, netball, cricket, rugby league, and softball. New Zealand also does traditionally well in the sports of rowing, yachting and cycling. The country is internationally recognised for performing well on a medals-to-population ratio at Olympic Games and Commonwealth Games.[2][3]
Rugby union, which is commonly referred to as simply rugby in New Zealand, is closely linked to the country's national identity. The national rugby team, the All Blacks, have the best win to loss record of any national team,[4] and are well known for the haka (a traditional Māori challenge) that they perform before the start of international matches.[5] New Zealand is also well known for its extreme sports and adventure tourism.[6] Its reputation in extreme sports extends from the establishment of the world's first commercial bungee jumping site at Queenstown in the South Island of New Zealand in November 1988;[7] its roots in adventure tourism can be traced all the way back to Sir Edmund Hillary, the first person to reach the summit of Mount Everest.
School sports
Swim Development
2008 Junior Meet Details
Physical Education
University sports
Fitness
Games
Meet entry for South Island Swim Championships have interesting relay process.
Relay Competition: Mixed Club Draft
File:2018 South Island Champs Flyer Final.pdf 16. Eight Coaches will be named to draft their own relay teams comprising of 16 athletes (4 Male and 4 Female from each age group 15 & U and 16 & O).
The total team numbers will depend on entries with a minimum of 32 male and females required in each age group to work for a full timed final for each event.
17.At the time of entry athletes must declare their availability for the draft. At this point to assist them with their draft selections the coaches are all supplied with all of the athletes 100m Short Course Best Times for the Winter Season.
18. To indicate their availability for selection to a Draft Relay Team, SWIMMERS MUST ENTER Event 300- Mixed 25m Freestyle, when registering their entries for this meet. This event will appear at the bottom of the event list on the "Ëvents You Qualify For" portion of the SNZ Database entry page, and there is no charge for this.
19.Coaches will meet on the evening before the meet commences and select their teams of 16 athletes on a draft system. A draw for selection order will take place.
20. The team coaches will then put together all of their relay teams from the selected athletes for the following relays.
Day 1
Men 15 & U 4 x 100 Free Relay
Women 15 & U 4 x 100 Free Relay
Men 16 & O 4 x 100 Free Relay
Women 16 & O 4 x 100 Free Relay
Day 2
Men 15 & U 4 x 100 Medley Relay
Women 15 & U 4 x 100 Medley Relay
Men 16 & O 4 x 100 Medley Relay
Women 16 & O 4 x 100 Medley Relay
Day 3
The athletes are all advised prior to warm-up of the first session of the team they have been selected in.
21. No entry fees.
22. Each team member is supplied with a Makos Cap.
23. Medals are not awarded to individual relay event winners but overall relay team competition awards are made
Top Relay Team – $800 Cash
2nd Place - $480 Cash
3rd Place - $320 Cash
24. Points are awarded as follows:
1st = 26, 2nd = 24, 3rd = 22, 4th = 20, 5th = 19, 6th = 18, 7th = 17, 8th =16
Play
Media
Newspapers
TV, video, cinema
Radio and Podcasts
Wikis
Blogs
Discussions, forums, newsgroups
Open Source
Places
Sporting sites
Urban
Rural
Nature
Communities, Villages
In the garden
Business
Wikinomics
Buzz
Brands
Global brands
Sports sponsors
Imports
Exports
Sweatshops
Editors tips on sweatshops
Government
Diplomats and Embassy Notes
Friction
Rivals
Test matches against foes are more intense.
History
Travel
Destinations
Photos
Locals travel to:
Visitors from abroad often include:
Travel accounts
Music
Notes and pointers to tunes.
Dates
Holidays
Sporting Festivals
Trending pages
All items (110)