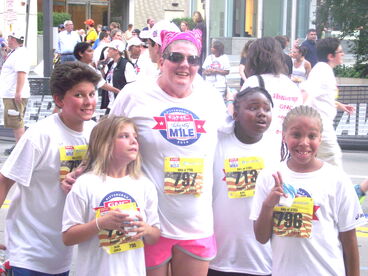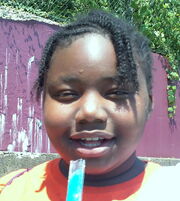 A-B-C Terms from SDA14:
Edit
Invade, adj. Mess with. To mess with someone. Don't invade my space.
Push-off, verb. Streamline. I pushed off in a stream line.
Team, noun. Group. People that stick together. We are all on a team.
Vibrate, adjective. Sounds. A buzzing type of sound. When we push off, the water vibrates.
Yelling, verb. Scream. Shout very loud. Everyone starts yelling in water polo.
Digital Badges
Edit
Serial #: 5C:31:3E:8A:3C:FC
Username:
Password:
Background
Edit
Write the details section of your page here.
Chantal Brown is in these videos
Edit
Serial Number:
Username:
Password: CLOH
Projects to do
Edit
Log onto this wiki with a username. Then you get credit for edits and changes at Special:MYPAGE.
Check out the A-B-C Book from the past and insert your photo into the page based upon your first name.
---
Entered in 2015 race. Downtown pickup.

Finished in place #208, Chantal Brown, bib # 832, 11 F 26 10-13 Time: 15:03.44.

Entered in the 2014 race.

Chantal Brown Carmalt, SDA14 58, Time: 16:02.88. 60 10-13
Community content is available under
CC-BY-SA
unless otherwise noted.