Jurassic World: Dominion Dominates Fandom Wikis - The Loop
Play Sound
Cycling is the use of bicycles, or - less commonly - unicycles, tricycles, quadricycles and other similar wheeled human powered vehicles (HPVs) as a means of transport, a form of recreation or a sport. It is done on roads and paths, across open country, through tunnels, over bridges, on snow, or even over ice (icebiking).
2008 Olympic Cycling Events:
Men
BMX

Road race

Time trial

Pursuit

Sprint

Keirin

400m team pursuit

Madison

Olympic sprint

Points race

Cross-country
Women
BMX

Road race

Time trial

Pursuit

Sprint

Points race

Cross-country
Beyond Links
Pennsylvania's hometown hero Bobby Lea and Team USA competed at the UCI World Track Championships in Melbourne in early 2012. Many T-Town racers succeeding at the highest level of the sport.
Bobby Lea

(USA) 17th Omnium

Sarah Hammer

United States (also known as USA) Bronze Omnium

Zach Bell

Canada (also known as CAN) Silver Omnium

Simon Van Velthooven

New Zealand (also known as NZL) Bronze 1K TT

Ali Shanks

New Zealand (also known as NZL) Gold Indiv. Pursuit

Jasmin Glaesser

Canada (also known as CAN) Silver Points Race

Aaron Gate

New Zealand (also known as NZL) 4th Points Race

Kaarle Mcculloch

Australia (also known as AUS) 4th 500m

Shane Archbold

New Zealand (also known as NZL) 5th Omnium
USA Women's Pursuit- 5th
Australian Men - Silver Team Sprint
New Zealand Men - Bronze Team Sprint, Bronze Pursuit
Bobby Lea and his brother, Syd Lea, covered in an article in Bicycling Magazine. [1]
Beijing Needs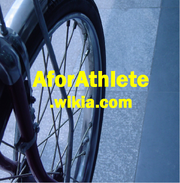 From Canada (also known as CAN) Cycling Site
Cycling has been a part of the Olympic Games program from the very first modern Games in 1896. Olympic cycling competition has evolved with a fourth discipline for the 2008 Games: BMX.
Bicycle moto-cross (BMX) racing began in the 1960s. Originating in California, BMX races are typically held on 350-metre courses, loaded with jumps, bumps and other obstacles. Eight riders navigate the track head to head, with the top four moving on to the next round.
Track cycling is totally different from BMX, road cycling and mountain biking. Track cycling's three disciplines, the keirin, the Madison and the Olympic sprint, are run on a banked oval track: the velodrome. The differences are exacerbated by the unique qualities of track cycling technology, namely spokeless wheels and aerodynamic helmets, designed to maximize speed.
Mountain made its Olympic Games debut in Atlanta in 1996. Riders bike over a hilly terrain, usually dotted with nature's obstacles like branches, rocks, streams and trees. Racers complete laps of the course, the length of which is determined the night before by race organizers aiming for a winning time around two hours and 15 minutes.
Road cycling is divided into road races and time trials. The road race consists of a mass start where cyclists race each other for hundreds of kilometres. Time trials involve riders starting at 90-second intervals, racing individually against the clock.
Canada (also known as CAN) sends 15 cyclists to 2008 Olympics in Beijing.
Marie-Hélene Premont, a silver medal in mountain bike at the 2004 Olympic Games, has been on a roll since then, with a slew of World Cup medals including five in 2008 – with a gold medal at a World Cup event in Scotland. In mountain bike, Premont will be joined by Catharine Pendrel as well as Geoff Kabush and Seamus McGrath on the men's side.
The track team is comprised of Grain, Zach Bell and Martin Gilbert. In road racing, Tuft is joined by Ryder Hesjedal and Michael Barry. Tuft and Hesjedal will also race in the Individual Time Trial. On the women's side, Hobson is joined by Alex Wrubleski and Erinne Willock to form a strong team. Interestingly, Willock's father, Martin, competed in the Team Trial at the 1984 Olympic Games in Los Angeles – and her uncle won bronze in cycling at the 1979 Pan Am Games. And finally, joining Cools on the BMX team will be either Scott Erwood or Jim Brown who will compete in a ride-off in July.
Canada will face competition from all across the globe, but these countries generally form the stiffest competition: Britain, Australia, Russia, the Netherlands, the USA and New Zealand. At the 2008 Track World Championships, British riders nabbed 11 of 54 available medals to finish as the No. 1 country. The Netherlands and Belarus followed as No. 2 and No. 3.
In mountain bike cross-country, Gunn Rita-Dahle Norway (also known as NOR)
will be a force on the women's side. Belgium (also known as BEL)
athlete, Roel Paulissen and Christoph Sauser of Switzerland (also known as SUI)
will be favourites on the men's side.
Judging by the 2008 World Championships, strong BMX riders include Maris Strombergs Latvia (also known as LAT)
, Steven Cisar United States (also known as USA)
and Sifiso Nhlapo Russia (also known as RUS)
on the men's side and Shanaze Reade GBR (also known as GBR)
, Ann-Caroline Chausson France (also known as FRA)
and Sarah Walker New Zealand (also known as NZL)
as Cools' main competition.
Introduction
As a sport, cycling is governed internationally by the Union Cycliste Internationale in Switzerland (for upright bicycles) and by the International Human Powered Vehicle Association (for other HPVs, or human-powered vehicles). Cycling for transport and touring is promoted on a European level by the European Cyclists' Federation, with associated members from Great Britain, Japan and elsewhere. Regular conferences on cycling for transport are held under the auspices of Velo City; global conferences are coordinated by Velo Mondial [2].
Equipment
Main article: bicycle
Template:Globalize
In many countries, the most commonly used vehicle for road transport is a utility bicycle. These have frames with so-called relaxed geometry, protecting the rider from shocks from the road, and easing low speeds steering. Road bikes tend to have a more upright shape and a shorter wheelbase, which make the bike more mobile but harder to ride slowly. The design, coupled with low or dropped handlebars, requires the rider to bend forward more, which reduces air resistance at high speed.
The price of a new bicycle can range from US$50 to more than US$20,000[3], depending on quality, type and weight (the most exotic road bicycles can weigh as little as 3.2kg (7 lb)) [4]). Being measured for a bike and taking it for a test ride are recommended before buying.
The drivetrain components of the bike should also be considered. A middle grade dérailleur is sufficient for a beginner, although many utility bikes come equipped with hub gears. If the rider plans a significant amount of hillclimbing, a triple-crank (three chainrings) front gear system may be preferred. Otherwise, the relatively lighter and less expensive two chainrings may be better.
Many road bikes include clipless pedals to which special shoes attach via a cleat, permitting the rider to pull on the pedals as well as push. Other possible accessories for the bicycle include locks, mudguards (UK)/fenders (US), luggage carriers and pannier bags, water bottles and bottle cages.
For basic maintenance and repairs, cyclists can choose to carry a pump, a spare inner tube, a CO2 cartridge, a puncture repair kit and tyre levers. Cycling can be more efficient and comfortable with special shoes, gloves, and shorts. In wet weather, riding can be more tolerable with waterproof clothes, such as cape, jacket, trousers and overshoes.
Items legally required in some jurisdictions, or voluntarily adopted for safety reasons, include bicycle helmets, generator or battery operated lighting, and audible signaling devices such as a bell or horn. Extras include studded tires and a bicycle computer.
Skills
Main article:

vehicular cycling
Learning to ride efficiently and safely in traffic is important. In the United Kingdom, many primary school children take the Cycling Proficiency Test, to help them travel more safely. However, the Cycling Proficiency Test has now been superseded, for children, by 'Bikeability' and the National Standards for Cycle Training. In countries such as the Netherlands, where cycling is popular, cyclists sometimes ride in bike lanes at the side of or separate from, the main highway. Many primary schools participate in the national road test in which children individually complete a circuit on roads near the school while being observed by testers.

Benefits of High-Gear, Lower-Cadence Cycling in Flat Triathlons, By Nick White and Jim Rutberg. This article was originally posted a few weeks ago because it contains great information for Ironman Florida and Ironman Arizona athletes. It's also very relevant if you're a road cyclist in a flat area. http://trainright.com/triathlon-training-benefits-of-high-gear-low-cadence-cycling-in-flat-triathlons/
Types of cycling
City
Main article:

Bicycle friendly
Cyclists, pedestrians and motorists make different demands on road design which may lead to conflicts. Some jurisdictions give priority to motorised traffic, for example setting up one-way street systems, free-right turns, high capacity roundabouts, and slip roads. Others may apply traffic restraint measures to limit the impact of motorised transport. In the former cases, cycling has tended to decline while in the latter it has tended to be maintained. Occasionally, extreme measures against cycling may occur. In Shanghai, where bicycles were once the dominant mode of transport, bicycle travel on a few city roads was banned temporarily in December 2003.
In areas in which cycling is popular and encouraged, cycle-parking facilities using bicycle stands, lockable mini-garages, and patrolled cycle parks are used to reduce theft. Local governments promote cycling by permitting the carriage of bicycles on public transport or by providing external attachment devices on public transport vehicles. Conversely, an absence of secure cycle-parking is a recurring complaint by cyclists from cities with low modal share of cycling.
Extensive bicycle path systems may be found in some cities. Such dedicated paths often have to be shared with in-line skaters, scooters, skateboarders, and pedestrians. Segregating bicycle and automobile traffic in cities has met with mixed success, both in terms of safety and bicycle promotion. At some point the two streams of traffic inevitably intersect, often in a haphazard and congested fashion. Studies have demonstrated that, due to the high incidence of accidents at these sites, some such segregated schemes can actually increase the number of car-bike collisions.[1]
Bicycles are considered a sustainable mode of transport, especially suited for urban use and relatively shorter distances when used for transport (compared to recreation). Case studies and good practices (from European cities and some world-wide examples) that promote and stimulate this kind of functional cycling in cities can be found at Eltis, Europe's portal for local transport.
In the Netherlands bicycle paths are widespread and are (in the cities) not allowed for scooters. Cyclists in the Netherlands are well protected as the law assumes the stronger participant (i.e. the car) guilty party in all accidents involving weaker traffic unless evidence of the opposite is provided. Furthermore, drivers know to expect bikes, which are plentiful and treat traffic rules more as guidelines. Due to these issues the number of car-bike collisions with serious consequences is not alarmingly high in the Netherlands
Bicycles are used for recreation at all ages. Bicycle touring, also known as cyclotourism, involves touring and exploration or sightseeing by bicycle for leisure. A brevet or randonnée is an organized long-distance ride.
Organized rides
Many cycling clubs hold organized rides in which bicyclists of all levels participate. The typical organized ride starts with a large group of riders, called the mass, bunch or even peloton. This will thin out over the course of the ride. Many riders choose to ride together in groups of the same skill level to take advantage of drafting.
Most organized rides, for example Cyclosportives, Challenge Rides or reliability trials, and hill climbs (Hillclimbing (cycling)) include registration requirements and will provide information either through the mail or online concerning start times and other requirements. Rides usually consist of 25, 50 and 100 mile routes, each with a certain number of rest stops that usually include refreshments, first aid and maintenance tools.
Mountain
Mountain biking grew in the late 20th century, including recreation and racing.
Racing
Main article:

bicycle racing
Shortly after the introduction of bicycles, competitions developed independently in many parts of the world. Early races involving boneshaker style bicycles were predictably fraught with injuries. Large races became popular during the 1890s "Golden Age of Cycling", with events across Europe, and in the U.S. and Japan as well. At one point, almost every major city in the US had a velodrome or two for track racing events. However since the middle of the 20th Century cycling has become a minority sport in the US whilst in Continental Europe it continues to be a major sport, particularly in France, Belgium and Italy. The most famous of all bicycle races is the Tour de France. This began in 1903, and continues to capture the attention of the sporting world.
In 1899, Mile-a-Minute Murphy became the first man to ride a bicycle a mile in under a minute.
As the bicycle evolved its various forms, different racing formats developed. Road races may involve both team and individual competition, and are contested in various ways. They range from the one-day road race, criterium, and time trial to multi-stage events like the Tour de France and its sister events which make up cycling's Grand Tours. Recumbent bicycles were banned from bike races in 1934 after Marcel Berthet set a new hour record in his Velodyne streamliner (49.992 km on 18 November 1933). Track bicycles are used for track cycling in Velodromes , while cyclo-cross races are held on rugged outdoor terrain. In the past decade, mountain bike racing has also reached international popularity and is even an Olympic sport.
Professional racing organizations place limitations on the bicycles that can be used in the races that they sanction. For example, the Union Cycliste Internationale, the governing body of international cycle sport (which sanctions races such as the Tour de France), decided in the late 1990s to create additional rules which prohibit racing bicycles weighing less than 6.8 kilograms (14.96 pounds). The UCI rules also effectively ban some bicycle frame innovations (such as the recumbent bicycle) by requiring a double triangle structure.[2]
Activism
Two broad and correlated themes run in bicycle activism: one is about advocating the bicycle as an alternative mode of transport, and the other is about the creation of conditions to permit and/or encourage bicycle use, both for utility and recreative cycling. Although the first, which emphasizes the potential for energy and resource conservation and health benefits gained from cycling versus automobile use, is relatively undisputed, the second is target of much debate.
It is generally agreed that improved local and inter-city rail services and other methods of mass transportation (including greater provision for cycle carriage on such services) create conditions to encourage bicycle use. However, there are different opinions on the role of the use of segregated cycle facilities and other items of the cycling infrastructure in building bicycle-friendly cities and roads.
Some bicycle activists (including some traffic management advisers) seek the construction of segregated cycle facilities for journeys of all lengths. Other activists, especially those from the more established tradition, view the safety, practicality, and intent of many segregated cycle facilities with suspicion. They favour a more holistic approach based on the 4 'E's; education (of everyone involved), encouragement (to apply the education), enforcement (to protect the rights of others), and engineering (to facilitate travel while respecting every person's equal right to do so). In some cases this opposition has a more ideological basis: some members of the Vehicular Cycling movement oppose segregated public facilities, such as on-street bike lanes, on principle. Some groups offer training courses to help cyclists integrate themselves with other traffic. This is part of the ongoing cycle path debate.

Critical Mass is an event typically held on the last Friday of every month in cities around the world where bicyclists take to the streets en masse. While the ride was originally founded with the idea of drawing attention to how unfriendly the city was to bicyclists, the leaderless structure of Critical Mass makes it impossible to assign it any one specific goal. In fact, the purpose of Critical Mass is not formalized beyond the direct action of meeting at a set location and time and traveling as a group through city streets.
There is a long-running cycle helmet debate among activists. The most heated controversy surrounds the topic of compulsory helmet use.
Quotes
To be a cyclist is to be a student of pain….at cycling's core lies pain, hard and bitter as the pit inside a juicy peach. It doesn't matter if you're sprinting for an Olympic medal, a town sign, a trailhead, or the rest stop with the homemade brownies. If you never confront pain, you're missing the essence of the sport. Without pain, there's no adversity. Without adversity, no challenge. Without challenge, no improvement. No improvement, no sense of accomplishment and no deep-down joy. Might as well be playing Tiddly-Winks.
Associations
Cyclists form associations, both for specific interests (trails development, road maintenance, urban design, racing clubs, touring clubs, etc.) and for more global goals (energy conservation, pollution reduction, promotion of fitness). Some bicycle clubs and national associations became prominent advocates for improvements to roads and highways. In the United States, the League of American Wheelmen lobbied for the improvement of roads in the last part of the 19th century, founding and leading the national Good Roads Movement. Their model for political organization, as well as the paved roads for which they argued, facilitated the growth of the automobile.
Health
Bicycles are commonly used by people seeking to improve their fitness and cardiovascular health. In this regard, bicycling is especially helpful for those with arthritis of the lower limbs and who are unable to pursue sports such as running that involve more impact to joints such as the knees. Furthermore, since cycling can be used as a form of transportation, there can be less demand for self-discipline to maintain the exercise because of the practical purpose of the activity.
Cycling while seated is a relatively non-weight bearing exercise that, like swimming, does little to promote bone density.[3] Cycling up and out of the saddle, on the other hand, does a better job by transferring more of the rider's body weight to the legs. However, excessive cycling while standing can cause knee damage. It used to be thought that cycling while standing was less energy efficient, but recent research has proven this not to be true. There is no wasted energy from cycling while standing.[4]
Cycling on a stationary cycle is frequently advocated as a suitable exercise for rehabilitation particularly for lower limb injury due to the low impact that it has on the joints. In particular cycling is commonly used within knee rehabilitation programs. [5]