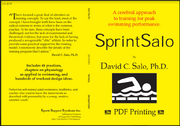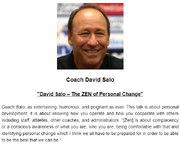 Interviews
Edit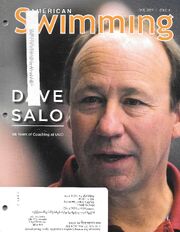 Dave Salo was appointed Head Coach of the University of Southern California swim team in April 2006. From the fall of 1990 until this recent appointment, David Salo was Head Coach of the Irvine Novaquatics swim team where he remains General Manager. He joined Novaquatics from a previous appointment with the University of Southern California where he served as Assistant Men's Coach under legendary Head Coach Peter Daland. While at USC, Salo assisted with the sprint group while also serving as recruiting coordinator during his final two years at the university. During Salo's tenure the Trojans earned NCAA top five honors, taking second in 1986 and 1987. While Head Coach of the Irvine Novaquatics, Salo led his team to a number of age group championships (BC and Junior Olympic) as well as several Junior National Team Championships and the USA National Championships (Men, Women, Combined, Combined Under 18). Along with team championships, Salo coached five swimmers - Amanda Beard, Aaron Peirsol, Jason Lezak, Gabrielle Rose, and Staciana Stitts - that represented the USA at the 2000 Olympic Games, bringing home five medals. In 2004, Salo coached Jason Lezak, Colleen Lanne, Gabe Woodward and Lenny Krayzelburg to the Olympic Team while Salo served as Assistant USA Men's Coach. Salo has also served as assistant coach for the USA Women's team in the 1999 Pan American Games as well as the 2000 Olympic Games and headed the Men's Team at the Goodwill Games in 2001 and the 2005 World Championship Team. Salo is a graduate of Long Beach State (B.A. and M.A.) and the University of Southern California (Ph.D.)[1] Salo is also the current head coach of Trojan Swim Club.
Harvested in December 2008
Dave Salo, one of the nation's top club swimming coaches for more than 15 years and a former Trojan assistant coach, is in his second year as head coach for USC's men's and women's swimming teams.
He replaced Mark Schubert, who assumed USA Swimming's head coach position after guiding USC swimming for the previous 14 years.
In his first year with the Trojans in 2007, USC's men's team finished 5-2 overall, 3-2 in the Pac-10, taking seventh at the NCAA Championships, fourth at the Pac-10 Championships.
The Women of Troy, which suffered the losses of three former Olympians prior to the season's end, were 5-4, 3-4, fifth at the Pac-10 Championships, 20th at the NCAA Championships.
Six men's swimmers earned All-American honors in 2007, including then-senior Larsen Jensen, who won NCAA titles in the 500y and 1650y freestyles. Jensen won those same events at the Pac-10 Championships. Then-sophomore Vanni Mangoni was also fourth in the 400y IM at the NCAA Championships.
Then-sophomore Rebecca Soni earned All-American honors on the women's side, successfully defending her NCAA title in the 200y breast and also reaching the final of the 100y breast.
Other noteworthy first-year accomplishments under Salo included the breaking of USC's record in the 50y free. Joe Bottom had held the record since 1977, but under Salo, senior Sean Sussex erased the mark, going under Bottom's old standard twice at the end of the 2007 season. (At the start of the 2007-2008 season, it was broken again, this time by current senior Richard Gosper).
Salo also helped then-juniors Whitney Hentzen and Brittany Allen become NCAA Championships individual point scorers for the first time, the two distance freestylers each earning points for the Trojans in the 1650y free. Additionally, current seniors Bryce Elser and Brandon Lovell both cracked USC's all-time top 10 in the 100y fly in their first year under Salo.
Salo, 48, who has coached Olympic medalists such as former Trojans Lenny Krayzelburg and Gabe Woodward, Aaron Peirsol, Amada Beard, Staciana Stitts, Colleen Lanne and Jason Lezak, came to USC after serving as head coach of the Irvine Novaquatics from 1990 to 2006.
"Returning to USC, following in the footsteps of Hall of Fame coaches Peter Daland and Mark Schubert, is a coach's dream," said Salo. "The fact that it is my reality can't be described adequately.
"I have had a dream coaching career - coaching some of the best swimmers in the world with one of the best clubs in the country. The opportunity to come back to USC to coach one of the most storied programs in the history of collegiate swimming is tremendously exciting. I am looking forward to contributing to the culture of expected excellence at USC."
Salo guided the Novas to numerous Junior National and U.S. National team titles as well as several age group championships. He was tabbed 2002 U.S. Swimming Coach of the Year after leading the Novas to U.S. Spring and Summer national titles.
In addition to his work with the Novas, he has served extensively at the national level, including head coaching assignments for the United States at the 2005 World Championships (men) and the 2001 Goodwill Games (men). His assistant coaching duties for the U.S. include the 2004 Olympics (men), 2003 World Championships (men and women), 2002 Pan Pacific Championships (men), 2000 Olympics (women) and the 1999 Pan American Games (women).
Nova swimmers and alums who trained under Salo have consistently dotted the roster of U.S. national teams, often in starring roles. Peirsol, the world record holder in the 100 and 200 backstroke (lcm), is a two-time Olympian and won 2004 Olympic gold medals in the aforementioned events. Beard is a three-time Olympian with seven medals, one of many elite breaststrokers who have come under Salo's tutelage. Lezak, a four-time Olympic medalist in two appearances, is among American's greatest sprinters.
Besides duties with the Novas and the U.S. team, Salo served as co-head coach at Orange Coast College from 2000 to 2004. The Pirates won the 2003 California state title and Salo was honored as state Co-Coach of the Year. Also in 2003, he became the Founding Director of Aquatics at Soka University in Alisa Viejo, Calif., where he recently completed his second season with the Lions.
Salo joined the Novas after five seasons (1985-90) working under legendary USC swimming coach Peter Daland. He helped guide Troy's men's team to five Top 5 NCAA finishes, including second-place marks in 1987, 1988 and 1990. Troy also had perfect dual-meet records in 1988, 1990 and 1991. Among the USC swimmers he helped coach were NCAA champions and Olympians Dave Wharton and Dan Jorgensen.
Salo graduated from Long Beach State with a B.A. and M.A. in exercise physiology and also served as an assistant women's swimming coach there in 1981 and 1982. He earned his doctorate in the same field from USC in 1991.
Salo swam for Santa Rosa Junior College from 1976 to 78 before transferring to Long Beach State.
References
Edit
External links
Edit
Headline text
Edit
Community content is available under
CC-BY-SA
unless otherwise noted.