Jurassic World: Dominion Dominates Fandom Wikis - The Loop
Play Sound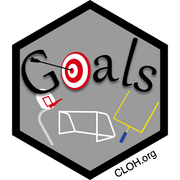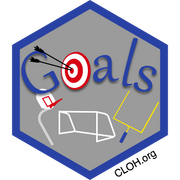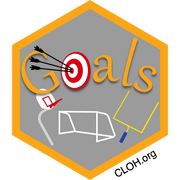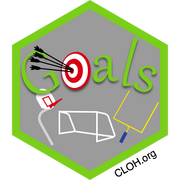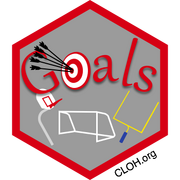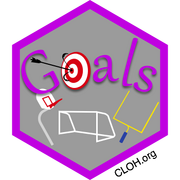 Background
Kay Atman, retired professor at University of Pittsburgh in the School of Education, lends her tools and insights for Digital Badges/Goals.
Learning about yourself and how to be a goal-minded individual helps in sports and other aspects of life, especially academics.
Take Aim
Sports are filled with all types of goals, and a few of them are shown within the badge design created in May, 2015, by Adam Majewski, a recent engineer graduate from the University of Pittsburgh. The various levels within Digital Badges/Goals, from 1 to Master, are represented with different colors and multiple arrows shown within the center of the target
---
| Level | Color of border | # of arrows | Tasks | Type |
| --- | --- | --- | --- | --- |
| 1, easiest | black | 1 | Create a list of four or more of your goals and post it to the CLOH wiki or some other social network so as to make a public declaration of purpose. | Skill |
| 2 | blue | 2 | Take the GOI and show results to a mentor who can help you interpret your unique goal achievement style and can provide advice for attaining your goals with this knowledge. | Knowledge |
| 3 | orange | 3 | Create your own goal support team of at least three other people. Seek peers, friends, coaches, teachers or relatives to meet with you and include on your team. The individuals on the team can help to hold you accountable and share in your successes. | Disposition |
| 4 | green | 4 | Spend a week tracking progress toward your goals and identifying key areas of stress and wasted time to mitigate in the future. | Skill |
| 5 | red | 5 | Spend the rest of the month (after the first week) reviewing your goals daily, striving, a half hour or more each day, to toward your goals through specific, self-directed action, and working around the distractions and stressors that were previously identified. | Skill |
| 6, Masters | purple | 2nd arrow splits 1st arrow | Post a Masters Term Paper to the CLOH wiki that presents the conation cycle, how goal setting shapes your personal energy and describe specific examples in your life or else the life of others that show the cycle at work. | Disposition |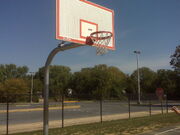 Instructions
The Goal Orientation Index (also called the GOI) begins with a series of questions to which there are no right nor wrong answers. The purpose of the GOI is to provide you with information about yourself. So, tell yourself the truth! Answer the questions, and the software generates your Goal Accomplishment Style. With these insights, you can better understand how you go about setting and accomplishing goals.
Read each item carefully and answer according to the frequency with which it describes you as a person. Although many of the statements may apply to you in your particular work or school setting, you will receive the most useful information from this inventory if you answer according to the way the statements describe you, personally. To complete the inventory, answer by indicating whether the statement describes you:
A) = RARELY,
B) = SOMETIMES,
C) = FREQUENTLY,
D) = USUALLY, or
E) = ALMOST ALWAYS
The above key is used for every item.
Go to the GOI questions
Grades
Everyone that takes all the questions in the GOI passes. Failure is not an option.
After all the questions are finished, the GOI software sends the results to an email bot, GOI -at- CLOH -dot- org.
Links
Videos
From June, 2015:
Insights
The GOI instrument has proven to be useful with adolescents and adults in helping them focus (with the assumption that it is important to set goals and make plans) on things that they really need--or want--to do.
The GOI is on a website, http://goi.kayatman.com. Individuals can interact with the instrument and have the answers scored immediately to receive feedback and a profile sheet to examine. The "real world" foundation for the GOI is a 12-step model of entrepreneurial behavior that was developed, based on a case study. Kay Atman has conducted 10 studies with middle and high school students, and she has been able to identify the goal-oriented behaviors related to academic achievement.
Kay Atman of Pittsburgh developed a 96-item self-report instrument, the Goal Orientation Index (GOI), which was incorporated in the battery of tests being used in the study. As it turned out, certain elements found in the GOI proved to be a very good predictors of self-care agency and there was even a negative correlation between goal orientation and both anxiety and depression. Many are excited about the results and the article. This specific research in achievement motivation resulted in the developing the GOI in 1982. So, these findings and the article's release has been 33 years in the making.
Researchers used the GOI with basketball players at a middle-school summer programs in a Pittsburgh in the past. The boys took the GOI, got their profiles and set goals to improve their performance in specific skills that they had identified.
A study coming out of the Pitt School of Nursing and the UPMC lung transplant unit, publish date in fall 2015 in Progress in Transplantation is titled: Predictors and Influence of Goal Orientation on Self-Management and Health-Related Quality of Life after Lung Transplantation. The article describes a study with lung transplant recipients following surgery. The purpose of the study was to identify predictors for "self-care agency" – a concept which is well known in the health-care industry but which, I'll have to admit, is little known in the field of education.
Self-management resides in a variety of areas:
physical
mental
social
emotional
---
Digital Badges/Goals help convey action and commitment!
Make a list. Make daily lists of what will be accomplished and cross off items completed at the end of the day.
Manage resources. Organize and maintain resources: shoes, clean clothes, gym bag.
Make a plan. Document levels of one skill development across the duration of the summer program.
"Stoke the Furnace!" Monitor timely food intake that contributes to physical strength and development.
Identify potential stressors. Monitor food intake that contributes to clear thinking under stress.
Create a goal support system. Keep the goal supporters up-to-date on your progress toward your goals. Include goal supporters:

a coach
another adult in the summer program
an adult at home
another student
Goal You Set Is the Goal You Get
Worksheets to help with students on goal setting steps. PDF handout, 8 pages. File:Goal You Set Is Goal You Get.pdf
References
GOALS BADGE DESIGN
Step 1
Name:
Organization:
In what program(s) can this badge be earned?
Summer Dreamers Swim & Water Polo (non-exclusive), or any program that follows the same process and evaluation framework.
Competency. What are you badging?
Personal Growth, Perseverance
Evidence. What does it look like to demonstrate this competency?
For the whole program: A knowledge of the role that goals and goal-setting play in everyday life as well as a commitment to a set of self-determined goals and a specific steps taken and an overall plan of action to follow through on them.
Level 1: Do a GOI and record the results to reflect on.
Level 2: Set goals for yourself that will be regularly reviewed and evaluated.
Level 3: Meet with an adult mentor to describe your goals and GOI results. Collectively arrive at an incremental plan to achieve your goals, using knowledge of your particular style of setting and achieving goals.
Level 4: Read 5 articles about goals from the selected list.
Level 5: Publish a written reflection of 100+ words in length about goals, your goals, this goals process, or the goals articles that you read.
Level 6, Goals Master: Retest with the GOI every two weeks to be aware of changes to your goal setting/achievement style and evaluate where you stand with respect to the goals that you set earlier in the process to reflect on how far you've come and where you need to go. Help a peer or friend that is not in the same summer program complete a GOI and inform them about how to use the results. Talk to an adult role model about some of their life goals and whether they have achieved them and why.
Activities. What activities produce the intended evidence of this competency?
Setting goals, and especially for fitness-related programs, the incremental practice required to achieve those goals.
---
Do you think of this as a: Check all that apply.
Level 1: Knowledge
Level 2: Skill
Level 3: Knowledge and Skill
Level 4: Knowledge
Level 5: Skill
Level 6: Disposition and Skill
---
Step 2: Badges build bridges to other opportunities. How does this badge connect to other offerings in the community?
Online?
Kay Atman's Goal Orientation Index
All of the articles and organizations that are linked to them about goals, goal-setting, and goal-acheiveing
At other organizations?
In your organization?
---
Step 3:
Name of Badge:
Short Description (~50 characters):
A badge that shows how far the earner is in the goals process.
Remake Learning Focus Area (circle all that apply): CAREER READINESS CODING & GAMING DESIGN & MAKING
Formal Description (~160 characters):
This badge shows what level of goal (setting and achieving) that the earner is at in a process co-developed with Kay Atman, creator of the GOI.
How long will it take to earn this badge?
With dedicated effort and work, most
Who created this badge? (Name(s), role(s))
Adam Majewski, CLOH.org Badge Champion; Mark Rauterkus, Executive Head Coach; Kay Atman, Goals Expert
Who will issue this badge? (Name(s), role(s))
Summer Dreamers Swim & Water Polo Management
How and when will the issuer evaluate whether a student earned this badge? What are the criteria for earning the badge?
The issuer will evaluate whether the student earned the badge as he/she works with the student in the goals process. The criteria are laid out for each level, above.
(URL, Text, Photo, Video, Audio)
How, when, and by whom will badge issuers and evaluators be trained?
The badge issuers were privy to the development of this goals program, or, if they weren't, will be instructed in the use and specifics of the program before teaching the students about goals.
Will the evaluation be ongoing (formative) or at the end of the program (summative)?
Pick one:
Circle the method by which this badge will be assessed:
Remake Learning Competency (please identify the competency or competencies most aligned with this badge):
(circle all that apply):
---
Will earning this badge be a goal/requirement for all participants in your program?
No, it will be a goal and process by which the student can achieve their other goals and earn badges.
Is this badge connected to other badges? If so, how?
(e.g. a student must first earn another badge in order to be eligible to earn this badge, this badge can be earned separately from or concurrently with another badge, etc.)
The goals badges follow a logical progression, but beyond that, they are unconnected to other badges.
What challenges might exist that hinder the issuing of this badge?
What will success look like for your badging program?
Technology Audit: What technology is available to support students in setting up online accounts?
(i.e. full access to computers/tablets, partial access to computers/tablets, access to internet but no access to computers/tablets, no access to internet on program premises, etc.)
Additional Discussion Prompts
(keep the conversation going with your Helpdesk member)
What unique benefits does this badge provide to your program?
What unique benefits does this badge provide to program participants (earners)?
---
Notes:
Goals Quotes
"My viewpoint is that human beings are goal-seeking, teleological organisms. That is, human beings do things for a reason or goal and strive to make meanings of their lives. The process of learning in a particular domain or content area is complex. Individuals develop a knowledge base through conditioning by the environment; they also actively construct a knowledge base through their seeking information and thinking about the subject based on their maturation and prior knowledge. When knowledge (which may be either cognitively- or affectively-based) is purposely put into practice through an exercise of volition, conation, and will, it leads to behavioral competence and, through reflection, to wisdom."[1]
Goals Research
Footnotes