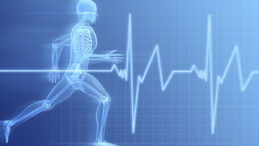 Background
[
]
Heart rate is a term used to describe the frequency of the cardiac cycle. Usually it is calculated as the number of contractions (heart beats) of the heart in one minute and expressed as "beats per minute" (bpm).
Psychologists monitor heart rate for a number of reasons, including in anxiety, exercise and sleep research.
Links
[
]
See Heart for information on embryofetal heart rates.