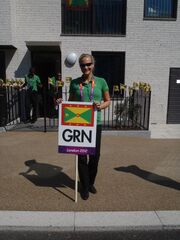 Nova Southeastern Hires Bonewit-Cron
[
edit
|
edit source
]
Ft. Lauderdale, FL , August 9th, 2009 Nova Southeastern University athletic director Michael Mominey named Hollie Bonewit-Cron as the first-ever head coach of NSU's new men's and women's swimming and diving program.
"We are very excited and fortunate to have Hollie join our team at NSU," Mominey said. "She brings a wealth of knowledge and experience to the athletic department from an NCAA perspective, having been both a student-athlete and a coach at the highest level. I am confident that she will lead the swimming program to great levels of success."Bonewit-Cron will head up the most recent of Nova Southeastern's three athletic department expansions since being granted full NCAA membership in 2002. The addition of men's and women's swimming and diving is slated to begin NCAA competition in 2010-11. Her first season on the NSU athletic staff will be utilized for recruiting, scheduling, student-athlete and program development."I am thrilled to have joined the NSU staff as the head coach for men's and women's swimming and diving. I feel Nova Southeastern provides a great opportunity for student-athletes to succeed both academically and athletically," Bonewit-Cron said. "By beginning a new swimming and diving program, I am looking forward to utilizing my knowledge of the sport and the experience I gained at Florida to recruit and develop quality student-athletes to their highest potential."Bonewit-Cron is a nine-year collegiate coaching veteran. Prior to NSU, she spent one year as a volunteer assistant coach at the University of Miami where she was primarily responsible for overseeing and planning of the daily training regimen of the breaststroke group.Before UM, she spent the bulk of her coaching career (2002-2008) as the assistant men's and women's swim coach at the University of Florida. During the 2007-08 season, she assisted in coaching 16 female NCAA qualifiers and All-Americans to a sixth-place finish and 17 male NCAA qualifiers. While with the Gators, Bonewit-Cron also helped guide one American and seven International male and female swimmers to the 2004 Olympic Games earning one gold and one silver medal. Bonewit-Cron launched her collegiate coaching career at Georgia Southern University in 2000 as the Assistant Women's Swim Coach. She was later promoted to the Interim Head Coach overseeing 28 female swimmers until assuming the position at Florida.A three-time Mid-American Conference All-First Team selection, Bonewit-Cron earned four varsity letters in swimming at Ohio University from 1996-2000. As a senior, she earned All-America honors in the 200m breaststroke. She won six MAC Championships in 2000, capturing titles in the 200y breaststroke, 400y individual medley, the 200y and 400y medley relay, and the 400y and 800y freestyle relay. Bonewit-Cron also led Ohio to the MAC team title and was a Senior National Qualifier for the third straight year.During her four-year career at Ohio, Bonewit-Cron was a 17-time MAC champion, including three consecutive titles in the 200y and 400y medley relay, as well as the 400y and 800y freestyle relay. She set school records in the 400y individual medley and MAC records in the 200y breaststroke, 400y freestyle relay, and the 200y and 400y medley relays. A three-time medalist in the 400y individual medley and two-time medalist in the 200y breaststroke, she was awarded MAC Swimmer of the Year honors after her junior season. In 2000, she was also an Olympic Trials qualifier in the 100y and 200y breaststroke as well as the 400y individual medley.Bonewit-Cron is a native of Athens, Ohio and graduated with a B.A. in Psychology in 2000 at Ohio University. Afterwards, she received her master's degree in kinesiology with an emphasis in sport psychology from Georgia Southern University in 2002. She currently resides in Miami with her husband, Chad.NSU men's and women's swimming/diving will compete as an NCAA Division II program and as a member of the Sunshine State Conference. Currently, 73 Division II schools offer varsity women's swimming/diving while 56 Division II member institutions offer the program to men.Nova Southeastern University also becomes the fifth school in the Sunshine State Conference with a men's and women's varsity swimming/diving program joining Florida Southern, Rollins, Saint Leo and Tampa. Both programs will compete at the recently constructed $5 million NSU Aquatics Center. The 50 meter pool and dive well is the largest competition pool in the state of Florida with well over a million gallons of water. The competition pool can be set up for 50 meter or 25 yard lap swimming and also boasts two, one meter and one, three meter diving boards.The addition of men's and women's diving brings Nova Southeastern's total sports to 17 (7 men's programs and 10 women's programs). With only six season of competition at the NCAA Division II level, NSU has also experienced a wealth of success winning one National Championship in women's golf (2009) in addition to three NCAA Division II Regional Championships and eight Sunshine State Conference Championships.
Community content is available under
CC-BY-SA
unless otherwise noted.