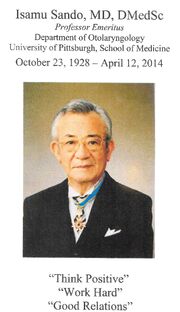 Isamu Sando, M.D., passed at the age of 85 as professor emeritus, University of Pittsburgh School of Medicine
died Saturday, April 12, 2014. Born in 1928, in Ashikaga, Japan, near Tokyo.
Dr. Isamu Sando worked as a young man to follow the example set by his father-in-law, Dr. Yoshio Ogura, who, during his career, had been awarded a Merit Medal from the Emperor of Japan.
Dr. Isamu Sando graduated from Nihon University Medical School in 1952 and trained in Otolaryngology at Sagamihara National Hospital. In 1962 he came to the United States with his wife, Yoko, and their daughter, Mariko, to do a Fellowship in Temporal Bone Histopathology with Professor Harold Schuknecht at the Massachusetts Eye and Ear Infirmary, Harvard Medical School.
Widely respected and dearly loved by his associates, research fellows and peers throughout the world, he is most fondly remembered as a kind, caring and compassionate Professor of Otolaryngology and Pathology and the Director of the Elizabeth McCullough Knowles Otopathology Laboratory at the University of Pittsburgh School of Medicine.
He mentored every resident in Otolaryngology at the University of Pittsburgh and more than 40 research fellows from his native Japan from 1976, when he joined the department, until his retirement in 2001. He helped everyone advance their careers and share the knowledge he had worked so hard to gain. His contributions to the Department of Otolaryngology were recognized by the Department in the awarding of Emeritus Professor status in October 2001.
His ability to describe the microscopic anatomy of the temporal bone in both English and Japanese resulted in a better understanding of many disease processes in the ear and made him a sought after lecturer throughout the world.
During his 50-plus year career, he contributed more than 200 publications and published a medical school text book in Japan.
He gave more than 260 lectures and presentations throughout the world. His research was consistently supported by research grants from NIH and the Deafness Research Foundation. In recognition of his significant contributions to medical science in 2007, he was awarded the Order of the Sacred Treasures, Gold Rays with Neck Ribbon medal from the Emperor of Japan. He truly lived by his credo, "Think positive, work hard, and have good relations." This is best exhibited by his last year and a half with us in which he cast his walker aside and proudly strode the foyer to shake hands with the Japanese Consulate General while proudly wearing his Emperor's Medal, danced at his granddaughter's wedding, returned to his beloved Japan to see his friends, colleagues and research fellows at his Alma Mater, Nihon University.
Early December brought the birth of his great-granddaughter, Casey Grace, and just before Christmas 2013, he achieved his lifelong dream of becoming a U.S. citizen.
He is survived by Yoko, his beloved wife of 54 years; daughter, Mariko (Jack); grandchildren, Jackson and Maya (Andrew); great-granddaughter, Casey Grace; sister, Kotoko Aoki; Pittsburgh family, Akiko, John, Miki, Erica and Justin; and his family's beloved hero, Dr. Eugene Myers, who was with them always as mentor, boss and, most importantly, friend. Isamu's passing was peaceful and in the presence of his loved ones.
Community content is available under
CC-BY-SA
unless otherwise noted.