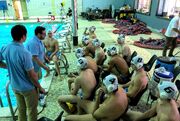 Water Polo Head Coach: Max Schlegel,
Assistant Coach: John Wilson
2019 Record: 6-16 (2-6 MAWPC-East)
1 Max Fleming Jr. Orinda, Calif.
3 Finn Banks Sr. Portola Valley, Calif.
Jake Pearson So. Key Biscayne, Fla.
Nico Ivanov Jr. San Diego, Calif.
Jacob Whitaker So. Annapolis, Md.
John Murphy Jr. San Diego, Calif.
8 Olin Shipstead Jr. Los Angeles, Calif.
9 Tim Peterson Jr. Tiburon, Calif.
10 Stephen Schmidt Jr. Orinda, Calif.
11 Kamran Eslami Fr. Mission Viejo, Calif.
13 Emerson Sullivan So. San Anselmo, Calif.
14 Chris Freese Fr. Bellevue, Wash.
15 Jayden Kunwar So. Woodside, Calif.
Johns Hopkins University will seek to claim the program's 18th Division III Eastern Championship as the Blue Jays previously picked up the 1994, 1995, 1996, 1998, 1999, 2001, 2002, 2004, 2005, 2006, 2008, 2009, 2011, 2012, 2013, 2014, 2015 and 2017 titles with runner-up marks in 1991, 1992, 1993, 1997, 2000, 2003, 2010, 2014 and 2018.
JHU did not make the 2007 (at the Massachusetts Institute of Technology (MIT)) and 2016 (at Penn State Behrend) Division III Eastern Championship title games for a simple reason—the Blue Jays elected not to compete at either tournament.
Head coach Max Schlegel will aim to acquire his first Division III Eastern Championship title as head coach after guiding the Blue Jays to the 2018 finale at home in Baltimore as the interim head coach. However, JHU fell to MIT by a 15-12 count. An assistant coach at JHU under previous head coach Ted Bresnahan from 2016 until being promoted to head coach in February 2019, Schlegel was part of the 2017 staff which helped Hopkins down Washington & Jefferson College (13-3 W), Connecticut College (15-8 W) and host MIT (11-10 W) to clinch the program's latest Division III title.
The 2018 title game marked the 20th meeting between the Engineers and Blue Jays for the crown 1991, 1994, 1996, 1997, 1999, 2000, 2001, 2002, 2003, 2004, 2005, 2006, 2008, 2010, 2012, 2013, 2014, 2015, 2017, 2018) with Johns Hopkins holding a 14-6 mark in the clashes.
Washington & Lee University defeated JHU in 1992 and 1993 in the second and third Division III tournaments for the only Championships not held by either Johns Hopkins or nine-time winner (1991, 1997, 2000, 2003, 2007, 2010, 2014, 2016, 2018) MIT.
In 2019, Johns Hopkins is 1-0 against the rest of the Division III Championship field as the Blue Jays topped Austin College (15-10 W) on September 7, 2019, in the season-opener during the United States Naval Academy's Labor Day Open.
The Blue Jays nave previously faced four other Division III schools this year with prior contests against Claremont-Mudd-Scripps Colleges (9-8 W), California Lutheran University (17-11 L), Whittier College (13-10 L) and the University of Redlands 14-11 L) on October 4-5 at the Gary Troyer Memorial Tournament.
Hopkins' title hopes will likely rely on netminder Max Fleming as the Blue Jays are putting up 11.18 goals per contest, while permitting an average of 15.36 scores through 22 games.
Location can also play a role in JHU's title chances as three of the Blue Jays' victories in 2019 have come in neutral site games with defeats of Austin, Iona College (15-13 W at Princeton University, September 14) and Mercyhurst University (16-11 W at Bucknell University, September 22).
Community content is available under
CC-BY-SA
unless otherwise noted.