Swimming coach at the University of Minnesota.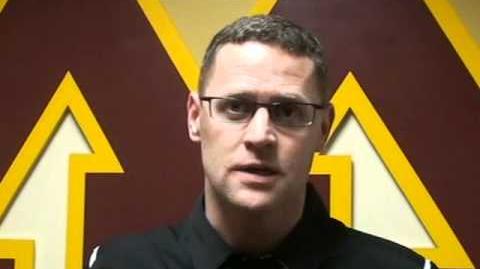 Hired at head coach for the Golden Gophers in 2011
[
edit
|
edit source
]
Kelly Kremer has been promoted to the position of head coach of the University of Minnesota Men's and Women's Swimming & Diving Program, director of athletics Joel Maturi announced in April 2011. Kremer, a 13-year veteran of the Minnesota staff, will assume his new duties immediately. If the programs are considered a combined program it could a coaching position to the staff while reducing the number of programs with separate men's and women's coaches to twenty.
"I'm very excited about the direction that this decision will take our Minnesota swimming and diving program," said Kremer. "Ultimately, this will give our program a common focus and I truly believe this is best for our student-athletes and their swimming or diving experience here at Minnesota."
"Kelly has been instrumental in the success of our swimming and diving teams and we are truly thrilled that he will lead us forward as a unified program," said Maturi. "Kelly has successfully coached both the men and women at the highest level and has earned the respect of his coaching peers. We believe this is an outstanding move for Minnesota swimming and diving and we could not be more pleased that Kelly has agreed to serve as head coach."
Since his arrival at Minnesota in 1998, Kremer has coached both squads. In 2004, Kremer was named the co-head coach of the Gopher women's team, sharing the duties with Terry Nieszner. Kremer was the associate head coach of the Gopher men's team from 2002-04 after spending his first four seasons at Minnesota as an assistant men's coach.
The current Minnesota staff will remain intact with adjustments made in titles and duties. Long-time Gopher men's coach Dennis Dale is the head men's swimming coach, while veteran women's mentor Nieszner will assume the position of head women's swimming coach. Both the men's and women's diving programs will be directed by Wenbo Chen.
"We have such a wealth of talent on our coaching staff with Dennis, Terry, Bill Tramel and Wenbo," added Kremer. "This change could not be accomplished without their support. I'm so appreciative that they are onboard 100 percent and are as excited as I am to continue the fine tradition of Minnesota swimming and diving. We have so many positives to build upon I can't wait to get started."
"I think this is tremendous for Minnesota swimming and diving," said Dale. "Kelly's re-involvement with the men's program is a big step forward. Overall Minnesota swimming and diving will take a big step forward."
"I am very excited about the new structure for Gopher swimming and diving," said Nieszner. "As the women's head coach, I believe we as a staff will combine our strengths to provide one of the best, if not the best, college programs available for both women and men."
The combining of the Gopher swimming and diving programs comes after successful campaigns for both the men and the women during the 2010-11 season. Kremer and Nieszner guided the Gopher women to a ninth-place finish at the 2011 NCAA Championships, the highest team finish in Minnesota history. The Gopher men placed 15th in the 2011 NCAA Championships, extending an impressive streak to 19 seasons with Minnesota placing in the top 15 at the national meet.
Kremer, 41 in 2011, coached Jillian Tyler and Haley Spencer to national breaststroke titles in 2011 with Tyler completing her career as the most highly decorated swimmer in Gopher history. Tyler, an Olympian from Canada (also known as CAN)
, was Minnesota's first finalist for the prestigious Honda Award. Minnesota, adding national diving champion Kelci Bryant into the mix, was the only school to have three different student-athletes win NCAA individual titles at the 2001 NCAA Championships. The Minnesota women battled to their ninth-place finish on the performances of 13 All-Americans across nine events.
As the co-head coach of the Gopher women since 2004, Kremer helped Minnesota to top-15 NCAA Championships finishes in each of the last five years. Minnesota won the Big Ten title in 2008 and posted Conference runner-up finishes four times, including this season. Kremer coached 49 swimmers to NCAA All-America honors and 33 athletes to Big Ten Conference titles during his tenure with the Gopher women.
While serving with the men's team, the Golden Gophers won three Big Ten championships in 2001, 2002 and 2004. The other three years the Maroon and Gold finished second at the league championships. The Gophers also notched top-10 finishes at the NCAA Championships in five of Kremer's six seasons.
Primarily responsible for the men's middle distance and distance swimmers, Kremer was the coach for more than 30 NCAA All-Americans. Kremer coached some of the best men's swimmers in the country. Under his tutelage, Jeff Hackler was a 15-time All-American, a school record holder and a multiple Big Ten champion in the breaststroke events. Kremer also coached All-American and Canadian Olympian Mike Brown and All-Americans Travis Beckerle, Ryan Plummer and Matt Taylor.
Kremer has placed three of his athletes on teams that represented the United States (also known as USA)
in international competition. Justin Mortimer competed at the 2003 World University Games after winning the Big Ten championship in the 1,650 free. Mortimer went on to compete at the 2004 U.S. Olympic Trials, placing third in the 1,500-meter freestyle.
Hackler competed in the 2002 World University Games, while former women's swimmer Keri Hehn swam in the 2003 World University Games. Kremer also coached Keam Ang, who competed for Malaysia (also known as MAS)
, and Yoav Meiri, who competed for Israel (also known as ISR)
in the 2000 Olympics in Sydney, Australia (also known as AUS)
. In addition, Kremer had the honor of being Mexico (also known as MEX)
's coach at the 2002 Short Course World Championships in Moscow, Russia (also known as RUS)
.
A native of Mandan, N.D., Kremer began his coaching career in 1988 with the Springfield Aquatics Swim Team in Springfield, Mo. From 1992-94 Kremer was the graduate assistant coach for Drury University, also in Springfield. He served as the head coach for John Brown University for one year before moving to Mission Viejo, Calif. in 1995 to serve as assistant National Team coach to Bill Rose and the Mission Viejo Nadadores from 1995-98.
As an athlete, Kelly finished fifth in the 100 backstroke at the 1991 US Open and participated in the 1992 Olympic Trials in the same event. During his collegiate career, he was a 24-time NAIA national champion and 29-time NAIA All American for Drury University, and was elected to the school's Sports Hall of Fame in the summer of 1997. Coach Kremer owns both a B.A. and M.Ed. from Drury.
Kremer resides in Apple Valley, Minn. with his wife, Eva Marie.
Community content is available under
CC-BY-SA
unless otherwise noted.