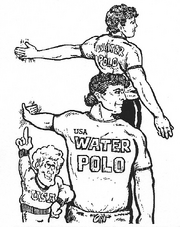 UCLA Alumnus Monte Nitzkowski Passes Away

[

edit

|

edit source

]
He was an All-Conference water polo player and a two-time All-American swimmer at UCLA.
August 01, 2016
LOS ANGELES – Kenneth Monfore "Monte" Nitzkowski, an All-Conference water polo player and two-time All-American swimmer at UCLA (1950-51), passed away Thursday, July 28, and was 86 years old.
After graduating from Huntington Beach High School in the '40s, he transferred to UCLA from Fullerton Junior College. While attending UCLA, he served as the captain of the swimming team and established the Pacific Coast Conference's record in the 200-yard butterfly in the 1950 PCC Championships and repeated as the PCC Champion in 1951.
Nitzkowski earned his Bachelor of Arts Degree from UCLA on June 20, 1951, in the midst of the Korean War and was on active military duty in the Navy by July 13, 1951. Fortunately for Nitzkowski, the Navy had a program deferring collegiate athletes with Olympic potential, allowing them to train for the upcoming 1952 Games. He was one of 12 athletes selected from across the country that was transferred to the Naval Academy to train. He had been accepted into the UCLA Law School but the war interrupted those plans. He was one of the six athletes that made the final cut at the 1952 Olympic Swimming Trials in Flushing Meadows, N.Y., qualifying for the Helsinki Olympics in 1952, where he placed 11th in the 200-meter butterfly.
After competing in the Olympics and released from the military, he decided on a career change. Rather than returning to law school, he completed work towards a master's degree and teaching credential, attaining both at Long Beach State.
He began his teaching and coaching career at Long Beach City College in 1955 and retired from LBCC in 1989. He taught in both the history and physical education departments while coaching the water polo and swimming teams. He coached there for 34 years, winning 32 Conference water polo championships and six State Water Polo and six State Swimming Championships.
It was also during those years that Nitzkowski became the first official national team coach and established a system of water polo that relied on tactics instead of ball-handling skills. Thought of as the most innovative coach in the sport's history, he began coaching internationally as an assistant coach at the 1967 Pan American Games where the Americans claimed gold. He also served as an assistant coach at the 1968 Olympic Games, a position he also held in 2000 in Sydney, Australia, marking his retirement from coaching.
During his international career, he coached five Pan American Games teams and five Olympic Games teams. His teams won four golds and one silver at the Pan Am Games (1967-gold, 1975-silver, 1979-gold, 1983-gold and 1999-gold), serving as the head coach in 1979 and 1983. He also served as the head coach of the Olympic teams in 1972, 1980 (boycott, Team USA ranked second in the world) and 1984. The Americans, following Nitzkowski's guidance, won their first Olympic medal, a bronze, in more than 40 years in 1972. He added a silver medal in 1984 in Los Angeles.
Nitzkowski was inducted into the International Swimming Hall of Fame (ISHOF) in Fort Lauderdale, Florida in 1991. Also a member of the United States Water Polo Hall of Fame, the National Polish American Sports Hall of Fame, the California Community College Coaches Hall of Fame, the Long Beach Century Club Hall of Fame and the Long Beach City College Hall of Champions. He has been selected to receive the Alumni Achievement Award from Delta Tau Delta Fraternity. He was also selected as Chairman of the World Water Polo Coaches Association when it was formed in 1995. He was inducted into the UCLA Hall of Fame in 2006.
Community content is available under
CC-BY-SA
unless otherwise noted.