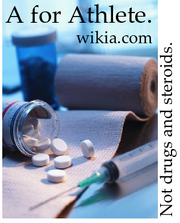 Media
Banned substance found in SA
Pretoria, South Africa (also known as RSA)
– The banned substance methylhexaneamine, for which two Springbok rugby players (Antoinette Pienaar and Wilhelm de Swardt) tested positive, is apparently freely available in South African pharmacies.
At least three supplements which are apparently used especially by bodybuilders before training sessions, in Dis-chem pharmacies. They cost between about R390 and R550 per container.
Ron Read, trade manager at Bolus, which distributed the supplement Jack 3d locally, said they warned professional athletes not to use the product as it contained methylhexaneamine.
"For anyone else who wants to use it as part of their gym programme, it is completely legal," he said.
Evox's Muscle Punch 3DT and BSN's Endoburn also contain the stimulant.
Dean Becker from Evox said they sponsored athletes but would never recommend that a player took a banned substance.
Professor Andy Gray, a pharmacologist at the University of KwaZulu-Natal said on Tuesday he had never heard of methylhexaneamine until the recent series of incidents where players tested positive for it. He also didn't know of local medicines that contained the substance.
Methylhexaneamine is a component in oil belonging to geraniums.
New Zealand at one stage considered scheduling the product as it was misused as a "party drug".
Since 2009, it has featured on the World Anti-Doping Agency (WADA) list of banned substances.
Chris Hattingh of the Institute for Drug-free Sport has been warning athletes for some time to be careful when choosing supplements as there are no rules to regulate their import and manufacture.
"Many of the supplements are of dubious origins."
"It sometimes happens that supplements are made in the same factories as banned substances like steroids and growth hormones."
Due to poor controls some supplements could be tainted by banned substances.
Hattingh said methylhexaneamine would from next year be reclassified as a specified substance on the list of banned substances.
This meant that athletes who used it still ran the risk of being suspended for two years.
But if they could prove that they hadn't taken the substance to deliver better performances, it could be a mitigating factor.
Hattingh said the institute had received many requests from companies to certify their supplements.
"We don't do it, simply because there is no quality control. There is also no legal requirement for manufacturers to do quality control."
Insights