Also known at University Prep, U-Prep High School, U-Prep, UPrep, UPrep High School, Pittsburgh Milliones, University Preparatory School, Milliones and Milliones High School
Background
Edit
Serving Grades 6, 7, 8, 9 and 10 in 2010, with expansion to include 6-12
3117 Centre Avenue, Pittsburgh, PA 15219
Located in Pittsburgh's Hill District, University Prep offers an academic magnet program for students enrolled in grades six through twelve. The faculty and diverse learning community together demonstrate that a public secondary school can connect all students to a relevant post-secondary opportunity, regardless of their previous academic record, serving as a model of innovation and excellence in urban education.
Formed by a partnership between the University of Pittsburgh and Pittsburgh Public Schools, University Prep embraces a total college-going culture in and outside of the classroom. The University of Pittsburgh's Helen S. Faison Center for Urban Education is located within the Milliones facility.
Curriculum is driven by research but molded by each student's individual goals and abilities. A small school environment provides support for students below, on, or above grade level, and a continuum of interconnected support systems has been designed to help every student at University Prep access advanced coursework and activities in order to succeed in a college preparatory sequence. All learners are expected to maintain high academic standards, believe in themselves, and graduate from high school to further their education.
University Prep's campus is housed in the former Margaret Milliones Middle School Building, which has been renovated to include new classrooms and meeting spaces. The tri-level facility houses library and technology center, cafeteria, gymnasium, and 4-lane, 25-yard swimming pool, in addition to administrative offices and research laboratories. An adjacent playing field is used for outdoor sports and facilities. Our special location overlooking the Hill Distrcit, Central Oakland, the campuses of the University of Pittsburgh and Carngie Mellon University enjoys frequent and close collaboration with key civic leaders who share the spirit of innovation Pittsburgh Public Schools is returning to this important cross-section of scholarship, culture, and commerce.
School named after Margaret Milliones
Edit
Margaret Milliones, a former Pittsburgh school board member and professor of black studies at the University of Pittsburgh, cared greatly for the students in the Pittsburgh Public Schools and wanted them all to have a quality education -- together. Her main focus was to rid the city of segregation. Milliones felt integration was the sure way for children of all ethnicities to get a sound education. Though soft spoken and polite, her zeal earned her the name Integration Crusader. We have to put aside all our various prejudices and fears and go about the business of designing a desegregated educational system that is par excellence, Milliones once said.
In 1976, her fight for integration got her elected to the school board, where she represented the Hill District, East Liberty and South Oakland. On the board, she fought to retain middle schools and to strengthen the district's ability to abolish segregation.
Her outspokenness even gained her respect from opponents.
Milliones was also active in the community, serving on the boards of the local and National Urban Leagues and on the American Civil Liberties union. Milliones was 38 when she died of a massive stroke in 1978, and later that year she was posthumously rewarded for her long years of active struggle when Herron Hill Middle School in the Hill was renamed Margaret Milliones Middle School. It was a tribute to her involvement and positivity, say those who pushed for the name change.
Milliones was born in Decatur, Ala., and graduated from Miami University in Oxford, Ohio, with a bachelor's degree in psychology. She received a masters degree in sociology from Atlanta University in Georgia. She taught at Morehouse College in Atlanta and at South Carolina State College before she moved to Pittsburgh in the '60s.
- By Angela Dyer and E. Dyer
In March 2011, the PPS Board announced that in September 2011, some 1,100 students (grade 6-12) are "anticipated to go there." Perhaps as many as 1,200 that have signed up. The jump in enrollment comes as Peabody High School closes and Westinghouse High School switches to single-gender academies.
Student Body
Edit
Wiki chart of enrollment
Edit
| | | |
| --- | --- | --- |
| Template Name | Enrollment # | source |
| /HS boys | 160 (for 9, 10, 11) | via PPS |
| /HS girls | 160 (grades 9, 10, 11) | via PPS |
| /9+10+11 boys | 99 | via PIAA |
| /9+10+11 girls | 106 | via PIAA |
| /ideal combined | 500 in HS | via reformers |
| /ideal boys | 250 in HS | via reformers |
| /ideal girls | 250 in HS | via reformers |
Ideal Enrollment Expectations
Edit
Ideal enrollment projections for grades 9, 10, 11 and 12 is 500 students: 250 boys and 250 girls.
PIAA reports enrollment, without any Date from snapshot of October 2010:

Total Enrollment = 205

Female Enrollment = 106
Male Enrollment = 99

Enrollment of U-Prep as reported on the PPS site, snapshot from October 10, 2010:
The chart below would include those in grades 6, 7, 8, 9 and 10 -- not just high school students.
| | |
| --- | --- |
| Total Students: | 517 |
| African-American: | 494 (95.55%) |
| American Indian: | 0 (0.00%) |
| Asian: | 3 (0.58%) |
| Hispanic: | 2 (0.39%) |
| Multi-Racial: | 9 (1.74%) |
| White: | 9 (1.74%) |
| Male Students: | 279 (53.97%) |
| Female Students: | 238 (46.03%) |
| | |
Pipeline and feeder pattern implications include:
Note coaches, team page links, class size per team, records and status reports, facilities used, possible classifications of PIAA and WPIAL, rivals.
Year round
Edit
Activities
Edit
Intramurals
Edit
Music, Drama, Academics
Edit
Facilities
Edit
Sports Venues
Edit
Swim pool
Edit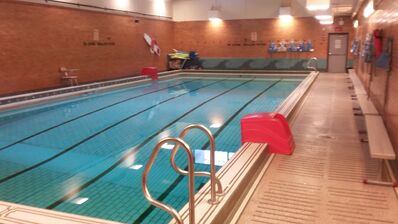 Auditorium
Edit
In building surroundings
Edit
Locker areas:
Trainers:
Coaches:
AD:
Storage:
Classrooms:
Outside surroundings
Edit
Walkable neighbors
Edit
Parks, fields, and other venues within a 20-minute walking distance for team and community use.
Building
Edit
First year's brochure
Edit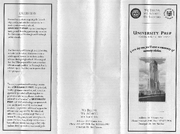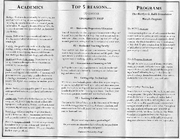 Academics
Edit
Engineering magnet
Japanese is taught.
Community Based
Edit
In school
Computer labs
Carnegie Library of Pittsburgh branches:
Traditions
Edit
Footnotes
Edit
↑

Phone call insights from October 2010.

↑

Phone call to school in October 2010.
Community content is available under
CC-BY-SA
unless otherwise noted.