Background
Edit
Title: Sprint Salo -- A cerebral approach to training for peak swimming performance
Author: David C. Salo, Ph.D.
Catalog copy from S.S.S.
Edit
Get an eye-opening explanation of fast swimming and how best to put in your time in the swimming pool. Follow these workouts and you'll be amazed at the results. From Pulse Plots to creative swim sets, this book has lit the established swimming world on fire. Join the many avid followers of david Salo, swimming coach and scientist. Swim training needs to be fast. Dave's understanding of the sport and science gives you the tools to make a great impact.
Dave's swimmer was Rookie of the Meet (3rd in 200 Breast) in 1995 Senior Nationals. His team, Irvine Novaquatics, has won Southern California JO Championships the past two years for both short course and long course seasons.
Author resides in Irvine, California.
Page length: 96
Cover price: $12.95
Format: 6 x 9 inches, paper cover with 9 line-drawings
ISBN: 1-878602-01-2
Bookstore section(s): Swimming
Publication Date: available as PDF download
Back Cover
Edit
"I have focused a great deal of attention on training concepts. To say the least, most of the concepts I have brought forth have been on the radical extreme in terms of what is the common practice. To be sure, these concepts have been challenged, not for the lack of experimental and theoretical evidence, but more for the lack of having produced a recognizable "elite" athlete. In order to provide some practical support for the training model, I extensively describe the details of the training program that i utilize." -- David C. Salo
Includes 48 practices, chapters on physiology as applied to swimming, and hundreds of workout design ideas.
Perfect for self-trained adult swimmers, triathletes, and coaches who want to know the latest trends as described with personality by a young, creative, scientist/ coach.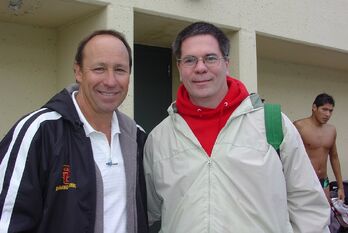 The first printing of the book happened before David was hired as head coach in Irvine.
Sprint Salo had three printings with the publisher. It was the second title from the publisher. The first was Tide Teamwork (book). Sprint Salo is out of print.
Community content is available under
CC-BY-SA
unless otherwise noted.