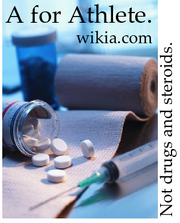 Background
The President and the White House weighed in on the baseball steroids scandal.
President Bush believed Major League Baseball management and the players' union should take "strong steps" to help rid the game of illegal performance enhancers.
G.W. Bush, a serious baseball fan and former part owner of the Texas Rangers team, highlighted the problem of steroids use in his State of the Union address in January, 2004. The issue gained more national attention with BALCO, Barry Bonds and Yankees' slugger Jason Giambi's admitted steriod use.
"I'm glad you actually brought that up," McClellan of the Bush White House, saying that children look up to major-league baseball players and that those "who use drugs undermine the efforts of parents and coaches to send the right message to our children. Drug use also poses some real risks, health risks, to athletes, and it also diminishes the integrity of sports."
File:Details.gif Players are randomly tested once during the season. Those who test positive are referred to counseling without being identified. A second positive test for steroids results in suspension. The players' union chief said Tuesday that the union and management were negotiating a tougher policy, which is expected to be announced this spring.
"It also allows him to be in on side of the angels. He can have an anti-drug message -- clean-up-the- American-pastime message -- and it sort of resonates with his audience."
Bush said children needed good examples to make good choices.
"Athletics play such an important part in our society, but, unfortunately, some in professional sports are not setting much of an example," Bush said at the time. "The use of performance-enhancing drugs like steroids in baseball, football and other sports is dangerous and sends the wrong message -- that there are shortcuts to accomplishment, and that performance is more important than character."
Other politicians have already reacted to the recent stories in what is becoming a Washington bandwagon to force baseball to impose stronger drug testing.
Sen. John McCain, R-Ariz., said he would introduce legislation to impose strict screening when Congress returns in January unless baseball acts first. House Minority Leader Nancy Pelosi, D-San Francisco, and Senate Majority Leader Bill Frist, R-Tenn., have said they would support such legislation.
Links
Media
N.J. takes a bold step on steroids from June, 2006, Philly.com. High school athletes could lose eligibility or medals under the first statewide policy to mandate testing.
ROBBINSVILLE, N.J. - New Jersey sports officials yesterday approved the nation's first statewide system to test high school athletes for steroids. Students who fail drug tests will be suspended and stripped of any medals they won.
Jose Canseco

, baseball player
IOC defends doping test rules 02/20/09 - IOC president Jacques Rogge defended the

World Anti-Doping Agency

's requirement that athletes be available each day of the year for out-of-competion drug testing, despite a groundswell of protest among competitors.