SwimRun is a new sporting craze. It is one of the fastest growing participation sports in Europe.
SwimRun has little equipment reliance and kit saturation of triathlons.
SwimRun can provide truly epic, remote endurance events
Traditional aquathlons combine swimming and running in a two-stage race.
SwimRun involves consecutive sections of each discipline. Also participants race self-supported – swimming and running in the same gear and carrying everything one needs.

"As more and more people look to escape the manmade environment, activities such as swimrun – invariably set in picturesque surroundings – are reaping the benefit"
Hell's Hop SwimRun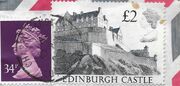 Part of UK / United Kingdom (also known as GBR)
.
Open Water Swimming Water Temp Scale
[
edit source
]
Loch Gu Loch SwimRun Scotland hits Loch Ness on Saturday October 1st 2016. This race offers a unique take on SwimRun by using inland Lochs and the mainland rather than archipelagos and islands. Event has 47km of running and an 8km swim across Loch Ness from Urqhart Castle which is deep, dark and legend has it haunted, make sure to watch out for Nessie!
In the Fjords of Norway (also known as NOR)
, Rockman has a finsih with a 1,000 meter climb up the Dragons Neck to a monstrous slab of granite with a near vertical drop. Criss-cross crystal-clear, ice-cold fjords, climb long granite staircases and master rocky mountain plateaus. With a total of 10 swims (6 km in total), 10 runs (35 km in total), 2,500 m elevation gain and its isolated and beautiful location, Rockman is a SwimRun like no other.
Race Director Ben de Rivaz loved his experience at the 2012 ÖTILLÖ race so much that he decided to create the first SwimRun event to be held in the UK / United Kingdom (also known as GBR)
and with that Breca was born. With 3 races in the stunning Lakes of Buttermere, the desolate beaches of Arainn Mhor and the sandy expanses of Jersey, Breca offers a total run distance of 38km, total swim distance of 6km and a total ascent of 1,900m.
The godfather of SwimRun, ÖTILLÖ (Swedish for "Island to island") was born in 2006 after a drunken bet between two Swedes to swim and run across more than 20 islands in Stockholm's archipelago. ÖTILLÖ continued to grow and morphed into the leading event in the world, inspiring hundreds of people to take up the sport and sprint and swim across the wild archipelagos of Sweden.
They're looking at establishing a world series with various qualifiers for the main event in Sweden.
At 75 kilometres, of which 10 km are open-water swimming and 65 km are trail-running, ÖTILLÖ is epic and original.
Community content is available under
CC-BY-SA
unless otherwise noted.