2016 Squad
[
]
Women's Team
[
]
2016 U.S. Olympic Women's Water Polo Team (Hometown/School/USAWP Club)
[
]
Sami Hill

– GK (Santa Barbara, CA/UCLA/Santa Barbara)

Maddie Musselman

– A (Newport Beach, CA/Corona del Mar HS/CdM Aquatics)

Melissa Seidemann

– D (Walnut Creek, CA/Stanford/NYAC)

Rachel Fattal

– A (Seal Beach, CA/UCLA/SOCAL)
KK Clark – D (Menlo Park, CA/UCLA/NYAC)
Maggie Steffens – A (Danville, CA/Stanford/NYAC)

Courtney Mathewson

– A (Anaheim Hills, CA/UCLA/NYAC)

Kiley Neushul

– A (Goleta, CA/Stanford/Santa Barbara)

Aria Fischer

– C (Laguna Beach, CA/Laguna Beach HS/SET)

Kaleigh Gilchrist

– A (Newport Beach, CA/USC/NYAC)

Makenzie Fischer

– D (Laguna Beach, CA/Laguna Beach HS/SET)

Kami Craig

– C (Santa Barbara, CA/USC/NYAC)
Ashleigh Johnson – GK (Miami, FL/Princeton/NYAC)
Head Coach: Adam Krikorian
Asst. Coaches:

Dan Klatt

and

Chris Oeding

Team Manager:

Jen Adams Funakura
2014 Squad
[
]
Men's National Team Roster - Exhibition Series Vs. Italy at the end of December 2014 and early 2015 Tony Azevedo (Long Beach, CA/Stanford/NYAC) Jesse Smith (Coronado, CA/Pepperdine/NYAC) John Mann (Newport Beach, CA/California/NYAC) Janson Wigo (Ft. Lauderdale, FL/Stanford/Olympic Club) Josh Samuels (Villa Park, CA/UCLA/NYAC) Alex Bowen (Santee, CA/Stanford/Stanford) Bret Bonanni (Huntington Beach, CA/Stanford/Stanford) Alex Obert (Loomis, CA/Pacific/Sac Polo) Conner Cleary (Goleta, CA/Stanford/Stanford) Nolan McConnell (Laguna Beach, CA/Long Beach St./SET) Jackson Kimbell (Long Beach, CA/Stanford/Newport WPC) Luca Cupido (Newport Beach, CA/California/Newport Beach WPC) Anthony Daboub (Newport Beach, CA/UCLA/Bruin) Nikola Vavic (Palos Verdes, CA/USC/Trojan) McQuin Baron (North Tustin, CA/USC/Regency) Drew Holland (Orinda, CA/Stanford/Lamorinda)
Ben Hallock (Studio City, CA/Harvard Westlake (HS)/Bruin)  ==2012 Squad==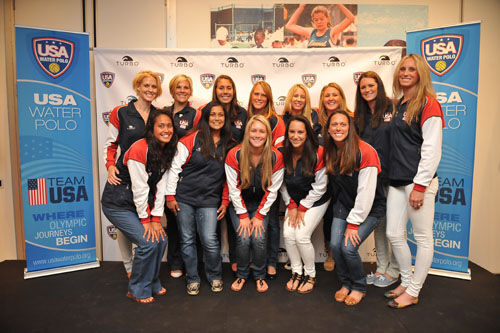 2008 Squad News
[
]
Both the men and women of the United States (also known as USA)
Water Polo have squads in the 2008 Olympics. Each qualified for the Olympics via Gold Medal victories at the 2007 Pan American Games. Both got silver finishes at the 2008 FINA World League Super Final.
Brenda Villa

(

Commerce

, CA/

Stanford

) who is headed to her third Olympic Games. Joining her is another three-time Olympian in

Heather Petri

(

Orinda

, CA/ University of California) and two-timer

Natalie Golda

(

Fullerton

, CA/

UCLA

). The rest of the squad is made up of 10 first time Olympians who despite the fact are rich with experience having all spent at least the last two years with the national team.
Moriah van Norman (San Diego, CA/USC), Lauren Wenger (Long Beach, CA), Patty Cardenas (Commerce, CA/USC), Brittany Hayes (Santa Ana, CA/USC), and Kami Craig (Santa Barbara, CA/USC) round out the Southern California contingent, as the five former college teammates will suit up for Team USA. Joining them are two of Michigan's finest in Alison Gregorka (Ann Arbor, MI/Stanford) and Bestey Armstrong (Ann Arbor, MI/Michigan) along with the other non-Californian in Elsie Windes (Portland, OR/California). Last but not least are a pair from Central and Northern California in Jaime Hipp (Fresno, CA/UCLA) and Jessica Steffens (Danville, CA/Stanford).
On the men's side two athletes also return for their Olympic Games in the form of team captain Tony Azevedo (Long Beach, CA/Stanford) and veteran center Ryan Bailey (Long Beach, CA/UC-Irvine). Joining those two are five returning Olympians including Layne Beubien (Coronado, CA/Stanford), Adam Wright (Seal Beach, CA/UCLA), Jeff Powers (San Luis Obispo, CA/UC-Irvine), Jesse Smith (Coronado, CA/Pepperdine), and Brandon Brooks (Honolulu, HI / UCLA). Concluding the roster are six first timers including Rick Merlo (Fresno, CA/UC-Irvine), Merrill Moses (Palos Verdes, CA/Pepperdine), Peter Hudnut (Encino, CA/Stanford), Tim Hutten (Seal Beach, CA/UC-Irvine), Peter Varellas (Moraga, CA/Stanford), and JW Krumpholz (Santa Ana, CA/USC). Alternates for the men's team are Brian Alexander (Cambria, CA/UCSB) and John Mann (Newport Beach, CA/California) while Erika Figge (Rancho Santa Margarita, CA/USC) will serve as the alternate for the women. The men's team begins competition August 10 against China while the women start August 11 also against China.
Quotes:
[
]
"When we name the team it's a great time in our program, there is excitement and for some there is also relief. It's the last part, we got our team, this will be the team that will represent us at the Olympic Games." -- Guy Baker, Head Coach - U.S. Olympic Team for Women's Water Polo
"The last six months a big part of it was evaluation and selecting the team, and today we also are honoring the guys that didn't make it. Now we focus on these 13 guys and I think we have the potential to continue to improve and grow and make Team USA even better." -- Terry Schroeder, Head Coach - U.S. Olympic Team for Men's Water Polo
"(After 2004) It makes it that much sweeter. It's nice that it's done, now we can focus on what we need to do and the task at hand. We have some stuff to work on and people don't need to worry now, everyone knows their role, we've come together so much in the last forty days and now we just need to fine tune some things and we will be ready." -- Merrill Moses, Goalkeeper - U.S. Olympic Team for Men's Water Polo
"(Since 2004) I think I've gotten better, the reason I came back was I didn't feel like a true Olympian because I knew I could play better. I feel like an Olympian now with this group of girls, we have all the right pieces and it's incredibly exciting now to just be thinking about water polo and our next opponent." Natalie Golda, Defender - U.S. Olympic Team for Women's Water Polo
U.S. Olympic Team for Women's Water Polo
[
]
Betsey Armstrong Heather Petri Brittany Hayes Brenda Villa Lauren Wenger Natalie Golda Patty Cardenas Jessica Steffens Elsie Windes Alison Gregorka Moriah van Norman Kami Craig Jaime Hipp
U.S. Olympic Team for Men's Water Polo
[
]
Merrill Moses Peter Varellas Peter Hudnut Jeff Powers Adam Wright Rick Merlo Layne Beubien Tony Azevedo Ryan Bailey Tim Hutten Jesse Smith JW Krumpholz Brandon Brooks