Jurassic World: Dominion Dominates Fandom Wikis - The Loop
Play Sound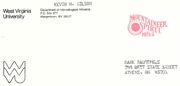 Background
Insights
News
Teams
Mascot
Swimming
=New Pool Opens in October 2019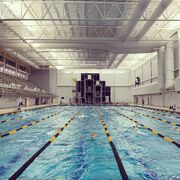 West Virginia University swimming and diving coach Vic Riggs has announced the addition of seven student-athletes as part of the 2013-14 incoming recruiting class in December 2012. 
The Mountaineers inked five new members to the men's squad, including Nate Carr (Charleston, W.Va.) and Austin Green (South Charleston, W.Va.), the top two male swimmers in West Virginia.
"When my staff and I arrived at WVU, I made it a huge priority to keep the in-state talent here," Riggs says. "Both of these young men had the opportunity to go to very strong programs outside the state, yet they are Mountaineers. I believe that says a lot about where we are as a program and where these young men believe they can reach their goals as student-athletes. I'm looking forward to watching them develop and become some of the best swimmers this state has produced."
Rounding out the men's class is Philip Fossee (Nashville, Tenn.), Nathan Howells (Round Rock, Texas) and Max Spencer (Peoria, Ill.). Spencer comes from the junior college ranks at Lincoln College.
The women's squad features the additions of Lindsay Morrow (Katy, Texas) and Emma Skelley (Manassas, Va.), both multi-year state qualifiers at their respective state championships
"The fall signing class for the 2012-13 season is a strong and diverse class that will add great depth to our program," Riggs says. "I'm excited to welcome Emma, Lindsay, Austin, Max, Nate, Nathan and Philip to our Mountaineer family."
Nate Carr, Stroke/IM, 6-2, 160, Charleston, W.Va./Charleston Catholic High
Three-year letterwinner for Shannon Vollmer at Charleston Catholic High
Two-year West Virginia State Championships qualifier and four-time individual finalist
Champion in the 100 back (53.31) and 200 IM (1:53.51) at the 2012 state championships
Holds Region IV Championships records in the 100 back (53.32), 200 IM (1:57.10) and as a member of the 200 free relay (1:34.29)
Two-time West Virginia All-State and All-Region IV First Team honoree
Also swims for coaches Philipp Davydotchkin and Greg Olson with HYCAT
Swam the 200 breast (2:24.68) at the 2012 U.S. Olympic Trials
Took first in the 200 IM (1:52.52), first in the 400 IM (3:59.46), second in the 500 free (4:35.71) and second in the 200 back (1:51.50) at the 19th Annual TYR Capital Classic in short course yards
Finish third in the 400 IM (4:33.07), fourth in the 200 IM (2:08.56) and 12th in the 100 breast (1:07.29) at the 2012 YMCA National Long Course Championships
Qualified for the Olympic Trials with a first-place finish in the 200 breast (2:20.78) at the 2012 Music City Invitational
Holds the West Virginia short course records in the 1650 free (16:12.59), 200 back (1:56.65), 200 breast (2:10.98) and 400 IM (4:07.31)
Swam to a first-place finishes in the 100 back (53.47) and 400 IM (4:15.65) at the 2012 West Virginia Short Course Championships
Took first in the 200 free (1:57.61), 400 free (4:12.39), 800 free (9:01.25), 200 back (2:11.94), 100 fly (58.45) and 200 fly (2:10.65) at the 2012 West Virginia Long Course Championships
Riggs on Carr: "Nate is one of the most versatile swimmers we have ever recruited. He is coming to Morgantown from Hy-Cat in Charleston, where he is coached by Philipp Davydotchkin and Greg Olson. Nate brings the intangibles to our program that will add much needed depth and will not only make our program better, but also those around him better."
Philip Fossee , Free, 5-11, 170, Nashville, Tenn./Franklin Road Academy
Three-year Tennessee State Champions qualifier and four-time finalist for coach Nathan Phillips at Franklin Road Academy
Finished third in the 100 free (46.59) and sixth in the 50 free (21.48) at the 2012 state championships
Took first place and set a regional record in the 100 free (46.68) at the 2012 Middle Tennessee High School Swimming Association (MTHSSA) Regional Championships
Also placed third in the 50 free (21.48)
Named All-Region MTHSSA First Team in 2012
Father, Phillip, and mother, Rebecca, were members of the track and field teams at Western Kentucky
Riggs on Fossee: "Philip is a very talented freestyler from Nashville Aquatic Club and coach John Morse. His freestyle will add the speed we are looking for in the sprint and 200 freestyle events for next season. With a strong character and determination to succeed, Philip brings the qualities that I look for to add to the program, and am I excited to welcome him to the Mountaineer family."
Austin Green , Breast/Fly/Free, 6-0, 170, South Charleston, W.Va./South Charleston High
Team captain and West Virginia Wendy's High School Heisman finalist for coach Sara Carroll at South Charleston High
Three-year West Virginia State Championships qualifier and six-time finalist
Broke the state record in the 100 breast during prelims (57.50) and took first place in the finals (58.29) at the 2012 state championships
Also a state champion in the 100 free (46.38), and has been a state finalist in the 50 free, 100 fly and 200 IM
Holds Region IV Championships records in the 50 free (21.72), 100 free (47.16), 100 breast (58.63) and 200 IM (1:57.30)
Record holder in for the Mountain State Athletic Conference (MSAC) Championships in the 100 breast (59.32) and 200 IM (1:57.30)
All-State, All-Region IV and All-MSAC First Team honoree in 2012
2011-12 NISCA/Speedo Boys High School Swimming All-American in the 100 breast
Also swam for coaches Aaron Settle and Pat Lyons with Tri-County YMCA Wild Waves
Team captain and member of the Wild Waves National Team
Swam to a first-place finishes in the 100 free (47.63), 100 breast (58.08), 200 breast (2:09.28), 100 fly (51.57) and 200 IM (1:56.22) at the 2012 West Virginia Short Course Championships
Member of the 2011-12 USA Swimming Men's Scholastic All-America team
Brother, Travis, swims at Kentucky
Riggs on Green: "Austin is a very strong breast/IMer swimmer from in-state with the Tri-County Waves under coach Aaron Settle. As the most decorated high school swimmer in West Virginia, adding Austin to our program was a big goal of ours and I'm excited he's a Mountaineer. His speed and competitive nature makes him another powerful weapon. Austin is a great addition to the Mountaineer family and our program."
Nathan Howells, Free/Fly, 5-10, 170, Round Rock, Texas/Stony Point High
Holds school records in the 100 free (48.51), 200 free (1:49.67), 500 free (5:04.56) and 200 IM (2:00.79) at Stony Point High
Junior Nationals qualifier in the 200 free, 100 fly and 200 fly for coach Tim O'Brien of Nitro Swimming
Swam at the 2012 Speedo Junior National Championships
Placed third in the 200 fly at the USA Sectionals in Houston
Riggs on Howells: "Nathan is a strong flier who will have an immediate impact on our program out of Nitro Aquatics and coach Tim O'Brien. While getting to know Nathan over the process it became clear that our program is getting a strong student-athlete that will help take us to the next level and reach the goals we have set."
Max Spencer , Free/Breast, 6-2, 185, Peoria, lll./Lincoln College
Currently in his sophomore season for coach Matt Dickenson at Lincoln College
Placed second in the 200 breast (2:02.46), fourth in the 100 breast (57.19) and ninth in the 200 IM (1:55.99) at the 2012 NJCAA Swimming and Diving Championships
Also a member of the third place 800 free relay (6:54.93), 200 medley relay (1:34.28) and 400 medley relay (3:26.84) teams
Swam for coach Shawn Ribordy at Peoria Notre Dame High
Earned all-state honors at the 2010-11 IHSA State Championships, finishing eighth in the 100 breast, and as a member of the fifth-place 200 medley relay, seventh-place 200 free relay and eighth-place 400 free relay
2010-11 NISCA/Speedo Boys High School Swimming All-American in the 200 free relay and 200 medley relay
Also swam for coach Ivan Borisov with the Peoria Area Water Wizards
Holds team records as part of the 400 free relay and 400 medley relay
Riggs on Spencer: "Max comes to the program from Lincoln College and is a very talented breaststroker. Having him come to our program with his experience and goals will only add to what we are doing with our men's program. He will be an integral part of our relays and in raising the level of the program. We are excited about the immediate impact he will have on the program."
Lindsay Morrow, Free, 5-7, Katy, Texas/Cinco Ranch High
Two-year state qualifier and five-time finalist for coach Christie Patterson at Cinco Ranch High
Took sixth in the 100 free (51.88) and eighth in the 50 free (24.01) at the 2012 Texas 5A State Championships
Was also a member of the second-place 200 free relay (1:35.67) team that earned 2010-11 NISCA/Speedo Girls High School Swimming All-America honors
Victorious in the 100 free (52.08) and took second in the 50 free (24.03) at the 2011 Region 5 Championships
Took first place in the 50 free (24.42) and the 100 free (52.59) at the 2011 District 19 Championships
Earned TISCA 5A All-State, All-Region 5 and All-District 19 First Team honors in 2011
District 19 Championships High Point Swimmer of the Meet in 2011
Also earned All-District 17 First Team honors in 2010
Also swims for coach Troy Emmons with Katy Aquatics where she is a three-time Junior National Qualifier, a Section Finalist and a Zone Champion
Sister, Catie, swam at Henderson State
Riggs on Morrow: "Lindsay is a very talented sprint freestyler and her talent and excitement for racing will give us a 1-2 punch, adding depth to our relays and sprint events. She is coming off a strong fall and we are excited about her contribution to our program in seasons to come."
Emma Skelley, Distance, 5-5, Manassas, Va./Osbourn Park High
Three-year Virginia AAA State Championships qualifier and five-time finalist for coach Alyssa Seligmann at Osbourn Park High
Placed second and third in the 500 free (4:57.22) and the 200 free (1:52.92), respectively, at the 2012 state championships, helping the team to a second-place finish
Set new Virginia AAA Northwest Region records with first-place finishes in the 200 free (1:53.43) and the 500 free (4:59.09) at the 2012 regional championships
Took first in the 200 free (1:55.41) and the 500 free (5:07.02) at the 2012 Cardinal District Championships
Two-time News & Messenger All-Area Swimming First Team member
Named Osbourn Park High Team MVP in 2011 and was named Most Improved in 2009
Also swims for coach Rick Benner with Quantico Devil Dolphins
Currently ranks third in the nation among 17-year olds in the 1000 free (10:10.95)
Holds club short-course yards records in the 1000 free (10:01.70) and the 1650 free (16:46.70)
Also holds long-course meters records in the 400 free (4:24.30), 800 free (9:01.05) and 1500 free (17:07.10)
Member of the 2011-12 USA Swimming Women's Scholastic All-America team
Father, Thomas, played soccer at New Haven
Riggs on Skelley: "Emma comes to us from a strong QDD program led by coach Rick Benner. Emma is a talented and young distance swimmer whom I am excited to see develop. I believe Emma will definitely continue the strong distance reputation we have developed here."
Details
News