Background
Edit
Yoga has a profound, multi-faceted identity, with centuries of religious and spiritual history behind it.
Yoga is an Indian tradition based upon asanas, or poses, for the purpose of meditation.
Generally done with a yoga mat.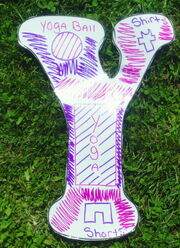 Places for yoga are in various airports such as in San Francisco. Dallas-Fort Worth, O'Hare, and Burlington International all have yoga rooms. San Diego commissioned a mediation space designed by a Seattle-based artist; and Helsinki and Dubai has Zen gardens, all for the purpose of bringing some relaxation to travelers. Yoga and meditation are activities that have moved out of homes and private studios and it is starting to be like Wi-Fi and electrical outlets: a given. Yoga rooms in airports and elsewhere are free. There are no fancy instructors with headsets. It's simply a small space with mats, where cell phones aren't allowed and patrons are instructed to take off their shoes.
For some, yoga is treated less like a practice and more like a pill.
The trendiness of yoga makes yoga a beacon of modern wellness.
Executive workshops now include meditation and mindfulness on their curricula, and companies like Google and McKinsey are teaching employees breathing techniques to manage stress. Clearer minds lead to smarter captains of industry, or so goes the prevailing thought.
Exercise Videos
Edit

Community content is available under
CC-BY-SA
unless otherwise noted.